Mark Burchill signs on at DAFC!
Author: Jason Barber Date: Wednesday, 6th Jul 2005

Burchill, who has a wealth of experience at the tender age of 24, has been playing top flight football since the start of the 1998/99 season.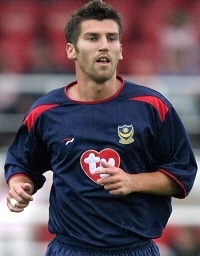 The former Celtic, Portsmouth and Hearts player has also played for numerous clubs on loan in recent years. Birmingham City, Ipswich Town, Dundee, Wigan Athletic Sheffield Wednesday and Rotherham have all been brief stopping off points for Burchill on his road to finally landing at East End Park!

A teenage star who broke into the Celtic team at the age of 18, Burchill`s first season saw him score 8 goals in just 20 league games.
12 goals followed in season 99/00 along with the first of his six Scotland caps won to date.

An international debut occured in the 1-0 home win over Bosnia Herzegovina during the Craig Brown reign. Days later, at home to Lithuania, a missed penalty denied Burchill the chance to open his international goals account.

Burchill then went onto appear in both play off matches against England, including the famous 1-0 victory at Wembley when he came on as a substitute for Neil McCann.
Further caps were won at home to France, and away to the Netherlands during 2000. After a four year absence, an in form Mark Burchill next season would surely set his sights on reclaiming a place in a shot shy Scotland squad.....

After 10 more goals for Celtic in 2000/01, a £900,000 move to Portsmouth was to occur at the start of the next campaign.
Four goals in just six games saw him get off to a flying start at Pompey, before injury curtailed him for the rest of that season.

Just three goals the following year (02/03) saw a loan move up to Dundee, to try and help him rediscover his scoring touch.

Another three goals followed for Dundee during that spell.
Unsuccessful loan appearances at Wigan, Sheffield Wednesday and Rotherham were to follow and Burchill`s goal appeared to have dried up.

John Robertson signed Burchill on a free transfer in January of this year, with a short term deal offered until the close season.


Three goals in five league starts (with another seven subs appearances) helped to compliment the Lee Miller scoring run that occured at Tynecastle late last season. Burchill scored against his former club, Celtic, at Parkhead in April.

Considering the lack of funds at Dunfermline, this is a very high profile signing and an international one at that. Burchill, at the age of 24, still has a lot to prove and should be hungry for success.

Here`s hoping he proves to be one of the club`s most astute signings for many a year!
Related Stories


views: 3,666