Matchday hospitality for next seasons games
Author: Jason Barber Date: Tuesday, 28th Jun 2005

Matchday hospitality packages for the new season: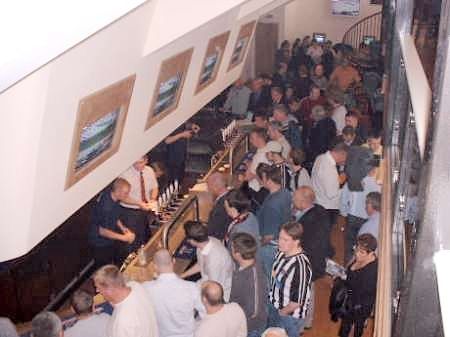 THE RENNIE SUITE

The Rennie Suite offers a Private Members Bar and Half-Time Hospitality to enhance your home fixture matchday experience.

Start your day with DAFC from 12.00pm onwards when your cash bar opens. Relax in your private lounge and watch sports on TV. Official team sheets are distributed prior to the match kick-off, giving you time to take advantage of our in-house betting service.

All post-match drinks ordered at half time carry a 25% discount for all Rennie Suite Members!

Your exclusive seat in the stand is reserved, and you return to your suite at half-time for a new, upgraded menu of savouries and cakes with tea or coffee.

At the end of the match the cash bar will re-open giving you time to discuss today's action with some of the players.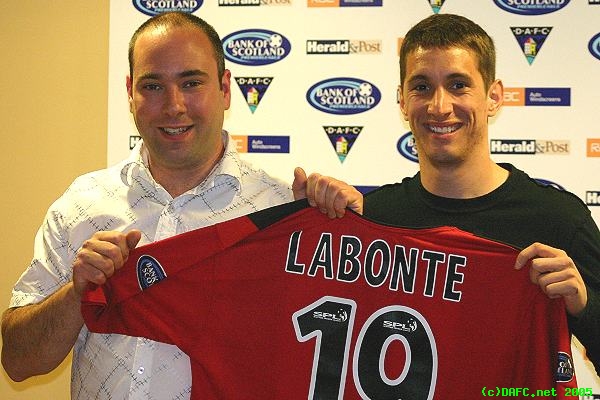 You can even sponsor a strip!
SPL and 1st Cup Tie
Matchday Itinerary & Private Members Benefits

 Cash bar opens from 12.00pm Saturdays or 5pm Midweek
 Official team sheets
 In-House betting
 Exclusive Centre Stand seating
 Half-time savouries and cakes with tea and coffee
 Players post-match attendance
 Bar closes Saturday 6.00pm or 45 minutes after final whistle
 Full DAFC Season Ticket Holder benefits; 10% off Zest, Pars Physiotherapy, The Gallery Restaurant, Pars Superstore, and Legends Sports Bar
 £30 discount for Rennie members only on any matchday hospitality places taken in Kingdom Suite, Pitchside Boxes, Matchball, or Match Sponsorships.

Adult - £580 (inclusive of VAT)
Children - £310 (inclusive of VAT)

THE CENTENARY SUITE:
An ideal opportunity for family or corporate clients, the Centenary Suite offers an exclusive private members lounge with its own bar and personal hostess service.

SPL and 1st Cup Ties
Matchday Itinerary & Private Members Benefits

 Access to lounge from 12pm on weekend matchdays and 5pm midweek
 Canapés and Sparkling Wine on arrival
 Cash bar facility
 Personal hostess service
 Exclusive Centre Stand Seating
 Complimentary teas and coffee
 Executive half-time buffet
 Complimentary matchday programme and official team sheet
 In-House betting
 Players post-match appearance
 All post-match drinks ordered at half time carry a 25% discount for all Centenary Suite Members!
 Bar closes Saturday 6.00pm or 45 minutes after final whistle
 Full DAFC Season Ticket Holder benefits; 10% off Zest, Pars Physiotherapy, The Gallery Restaurant, Pars Superstore, and Legends Sports Bar
 £40 discount for Centenary members only on any matchday hospitality places taken in Kingdom Suite, Pitchside Boxes, Matchball, or Match Sponsorships
 Disabled access

Adults £745 (inclusive of VAT)
Children £385 (inclusive of VAT)
THE KINGDOM SUITE:

Our premier hospitality suite; ideal for corporate entertaining or very special occasions!

Your day with DAFC begins with a welcome glass of sparkling wine as you are greeted at our main reception centre

Match Day Itinerary

 Private parking
 Drinks reception from 12.30pm Saturdays or 5.00pm mid week
 Delicious fine-dining four course meal with wine and liqueurs
 Full complimentary bar pre and post match until 5.30pm, or 45 minutes after full time.
 Pre-match talk with DAFC management team
 Complimentary match day programmes and team sheets
 In-House Betting
 Exclusive Centre Stand seating
 Half time savouries and teas or coffees
 Return to Kingdom Suite for Hot Soup or Sorbet – weather dependant - and complimentary bar.
 Listen to post-match Man of the Match and Matchball presentations
 Bar closes Saturday 6.00pm or 45 minutes after final whistle
 Disabled access

Cost per person:
C Game: £ 95, excluding VAT
B Game: £125, excluding VAT
A Game: £155, excluding VAT

Why not join us in The Kingdom Suite all season for only £2250!
SPL and Home Cup Games included!

C Games: Falkirk, Dundee Utd, Kilmarnock, Motherwell,
Livingston, Inverness CT
B Games: Hearts, Hibs, Aberdeen
A Games: Rangers, Celtic
NEW FOR SEASON 2005/06, CLUB 1885!

We are refurbishing two of our exclusive pitchside boxes for new Club 1885 members!

With all home match days catered for with personal hostess service and season long pitchside viewing – very exclusive comfort and style!

SPL and All Home Cup Ties
Matchday Itinerary & Private Members Benefits

 Access to private members lounge from 12.30pm on weekend matchdays and 5pm midweek
 Canapés and Sparkling Wine on arrival
 Full complimentary bar pre and post match until 5.30pm
 Complimentary teas and coffee
 Personal hostess service
 Delicious Buffet Lunch Pre-Match
 Complimentary matchday programme and official team sheet
 In-House betting
 Exclusive Pitchside Box Viewing
 Bar closes Saturday 6.00pm or 45 minutes after final whistle
 Full DAFC Season Ticket Holder benefits; 10% off Zest, Pars Physiotherapy, The Gallery Restaurant, Pars Superstore, and Legends Sports Bar
 £50 discount for 1885 Club members only on any matchday hospitality places taken in Kingdom Suite, Pitchside Boxes, Matchball, or Match Sponsorships
 Disabled access

Adults Only £995, excluding VAT, per person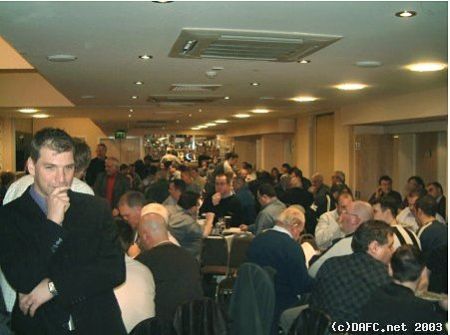 A Packed Kingdom Suite




JOCK STEIN SUITE

The perfect way to experience the pre-match atmosphere and enjoy our great value match day hospitality.

Your day with DAFC begins at 12pm with a 50% discount off all drinks from a cash bar between 12pm and 1pm. You will then have the choice of a succulent roast or a delicious hot dish and delectable sweets, along with half time savouries and tea or coffee.

Midweek hospitality opens at 5.00pm

Match Day Itinerary

 Cash bar opens from 12pm Saturdays or 5pm midweek, 50% discount from bar between 12pm and 1pm.
 Superb three course carvery meal with a complimentary glass of wine
 Official Team Sheets
 In-House Betting
 Exclusive Centre Stand seating
 Half time savouries and teas or coffees in Legends Sports Bar
 Drinks order taken for post-match with tables reserved for you and your guests in Legends Sports Bar mezzanine level

C Game: £37.50 including Ticket & VAT
B Game: £49.50 including Ticket & VAT
A Game: £64.50 including Ticket & VAT

Why not join us in The Jock Stein Suite all season for only £925!
SPL and Home Cup Games included!

C Games: Dundee United, Kilmarnock, Motherwell, Livingston,
Inverness Caledonian and Falkirk
B Games: Hearts, Hibs, Aberdeen
A Games: Rangers, Celtic

Please contact the sales team at DAFC if you are interested in any of the above packages. Matchball sponsors, home match sponsorship and pitchside box sponsorship packages are also available from the club.



views: 3,640