Internet Fans Player of the Year
Date: Sunday, 3rd Jul 2005

Over the close season you have been voting for your Player and Young Player of the Year.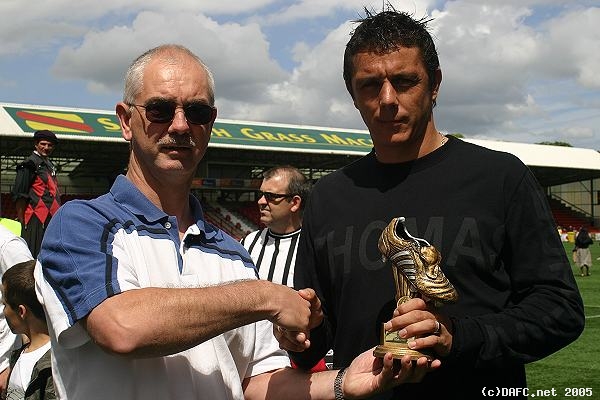 Last year may not have been one of the better years for the Pars, but there was still plenty to talk about.

Throughout the year DAFC.net match reporter specifies his (or her) Man of the Match, and we also ask you the fans to choose their Man of the Match for each game.

We also asked you to vote during the close season for you to choose who you thought was the best player for season 2004-2005. We take all these votes to produce a final DAFC.net Internet Fans Player and Young Player of the Year.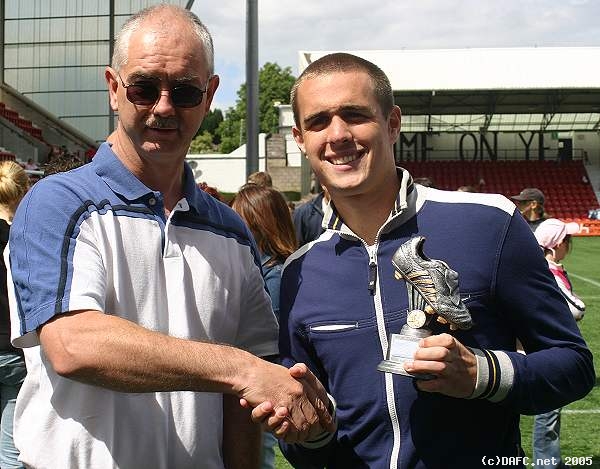 Iain Campbell collects the Young Player of the year award. This years award was against some great competition.




Two people came out on top for their consistant performances through the year, Scott Wilson and Andy Tod. That doesn`t mean to say there were not good performances from any other player. For example Billy Mehmet managed four Man of the Match awards from our Match Reporter and five Man of The Match Awards from the fans, but these were for earlier in the season and it seems that Scott Wilson and Andy Tod came into their own later on in the season.

But the final winner is ANDY TOD, Internet Fans Player of the Year 2004-2005.



Votes for the Young Player of the Season was very close between Iain Campbell and Greg Ross with Campbell just getting the edge. Ross probably missing out becuase he didn`t get too many games nearer the end of the season, but a player to watch out for (as he`s only just turned 18).

Iain Campbell, Internet Fans Young Player of the year 2004-2005, and all the young players should feel proud of their efforts throught what in hindsight was a very difficult season.



views: 3,369