Dunfermline face Hearts in battle for third place
Author: Jason Barber Date: Wednesday, 25th Feb 2004

With Hearts beating Livingston in midweek, they are now a formidable nine points ahead of Dunfermline. Nothing other than a Pars victory would really leave us with any realistic chance of jumping above the Gorgie Side by the end of the season.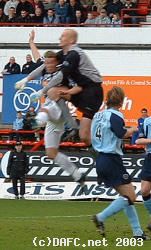 It`s honours equal in this fixture so far this season. The first game back in August was switched from the then building site that was East End Park to the Tynecastle grass. What can now almost be described as a "typical" performance there saw Dunfermline lose out 1-0 but again not play well at all.

The return game was also switched around to even things up, this time taking place on the new XL Turf at East End.

Craig Levein, who could never be accused of ever being happy with his lot, was remarkably NOT one of the major critics of the new surface after his side lost 2-1 thanks to goals from Derek Young and a winner from Scott Wilson.

Since then, Hearts have continued to grind out results as they have now mastered in recent times. Whilst Dunfermline have dropped 5 points to Aberdeen and 3 to Partick, Hearts have a 100% record against the bottom two sides.

For all the ecstasy that comes with beating Rangers and still being the only side to take anything from Celtic, our inability to beat teams near the bottom of the table stands out as the main difference between our sides.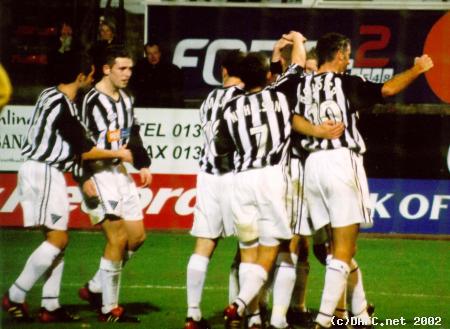 Bullen after his cracker last season
Almost the mirror image of this trend is our record against Hearts themselves. So many stories of "if only" and "almost"

We have more than matched them on occasion, yet they continue to grind out results against us when they have been the second best team on the day.

Thankfully, it is not always the case though!

The 3-1 victory at East End Park last season was one of the most one sided affairs between the teams in a long time. Superb goals from Barry Nicholson, Lee Bullen and Stevie Crawford were the highlights that afternoon.

Prior to that win though, was a barren run going back to 2000 when Jason Dair scored the only goal of the game, slotting past Anti Niemi from the edge of the box. A similar misunderstanding to the one that happened in the Hearts defence during that match would not go amiss this weekend.

History books show one of the most successful campaigns against Hearts being the otherwise unremarkable season 1990/91. Two wins, a draw and only one defeat (which occured during an end of season collapse) that season saw Ian Munro`s side have the upper hand over the Jambos.

The first competative home game of that season saw Dunfermline fans having to carry on without Jim Leishman, who infamously left during that summer. Boycotts were being discussed by supporter`s groups and fanzines, whilst Munro seemed to be mostly oblivious to the feeling against him at the time.

On the 1st of September 1990, Dunfermline lined up with the following side in front of a crowd of 10,602, an amazing crowd considering the circumstances and one that is not likely to be matched this weekend!

Andy Rhodes, Tommy Wilson, Ray Sharp, Norrie McCathie, Davie Moyes, Jimmy Nicholl, Paul Smith, Stuart Rafferty, Ross Jack, Ian McCall and Istvan Kozma. Sub used was Davie Irons whilst Scott Leitch remained on the bench.

Quite a few names still there still involved in professional football today, in one capacity or another and it was two present day managers who won the points for Dunfermline.

An excellent Hearts side had the best of the early pressure, with the experience of players such as Bannon and Robertson causing problems. However, their defence which included Craig Levein, was rocked when Davie Moyes climbed to head the opening goal! Alan McLaren and Dave McPherson were left standing as Moyes rose above them both to put Dunfermline into a surprise lead.

More Hearts pressure followed, with Andy Rhodes being tested on a fairly regular basis. Having displaced Ian Westwater over the summer, this match went some way to proving Rhodes as the first choice ahead of Westie for the season ahead. Previously having let in eight goals in just three games (including a friendly) his clean sheet was highly beneficial towards him keeping his place.

Ian McCall grabbed a second goal, again against the run of play, to put Dunfermline two up. Even with their continued pressure, Hearts could find no way past Rhodes and the points stayed at East End Park.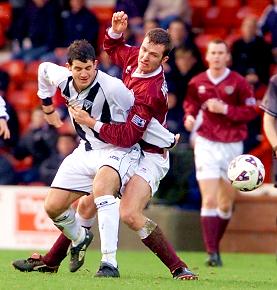 Craw v Webster
Not one person associated with DAFC would disagree that a similar result this weekend would be superb. Ravaged by injury, Jimmy Calderwood`s squad has been stretched to breaking point.

Craig Brewster, Noel Hunt, Stevie Crawford, Gary Mason and the Young Brothers should all hopefully be back in contention for a a starting place. However, the "reserve" team on Tuesday night steamrollered over a high flying Clyde side and no one deserves to be dropped from that side. A different kind selection headache may well be on Mr Calderwood`s mind come Saturday morning.....

Whatever side is put out needs our full support though. This is only the second home match since the recent financial troubles were finally admitted by the club. A great crowd (and resultant atmosphere) against Celtic saw a good, if untimately fruitless, performance from the side against the best team in the country by some way.

Similar positive noises need to come from the stands this weekend once again if a result if to be achieved. The players did not perform well last week in Aberdeen and surely have to do better this time round. A vocal Pars support can only help towards making this happen.

Full team news will no doubt follow as the game approaches, but for the meantime:

COME ON YE PARS!!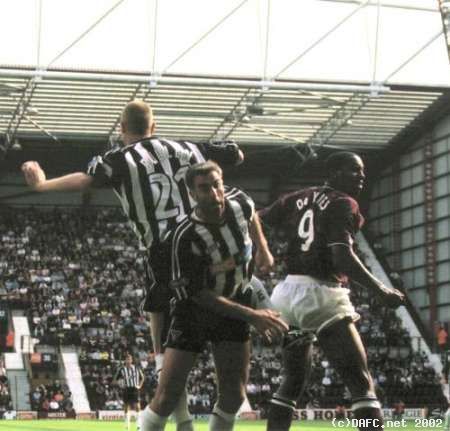 De Vries will need to be tightly marked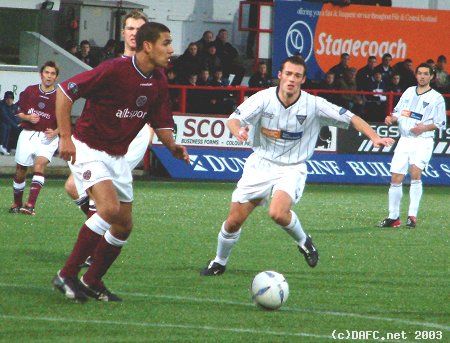 Darren Young also hoping to return
Related Stories


views: 3,286