Legends Reunited Part II comes to East End Park
Author: Jason Barber Date: Sunday, 22nd Feb 2004

On Sunday 9th May 2004, the most successful players in Dunfermline Athletic`s long history will return to the scene of many of the their greatest victories. Players from throughout the 1960s era will be invited back to celebrate their achievements throughout their Pars playing careers.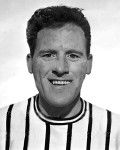 It is hoped that a bumper crowd will come out to recognise the players who put Dunfermline on the map, both at home and abroad.

Players from both cup winning sides in 1961 and 1968 will be in attendance, as well as players who came so close to winning a league and cup double in 1965. Dunfermline also reached the semi final of the European Cup Winners Cup in 1969 and players from that legendary European cup run will also be back!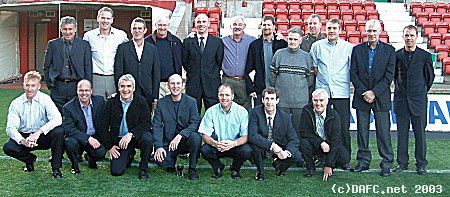 Legends Reunited I was well received by all the ex players
Invitations are currently being sent out to all the players and surviving managers from these sides, including Sir Alex Ferguson, Harry Melrose, Roy Barry, George Farm, Willie Cunningham, Pat Gardner, Alex Edwards, Charlie Dickson, Tom Callaghan, and Jackie Sinclair to name but a few!

A full house is expected in the lounges which will host the event, so please do not delay in booking your tickets for this true one off day. The cost for the day will be £10 per ticket (£3 for children) which includes both your first drink of the afternoon and a bite to eat!

Tickets will be made available soon, in the meantime if you have any queries, please do not hesitate to email Jason@dafc.net

Any money raised on the day, through tickets/raffle etc. will be ploughed straight back into Dunfermline Athletic.

Children are welcome to come along as well, with Hamish French (DAFC Community Coach) taking playing classes out onto the pitch throughout the day.

This promises to be a great day for true legends of Dunfermline Athletic, with both young and old fans hopefully coming along to show their appreciation for the trophies won and the many European nights out back in the 1960s.

With these former team mates now spread far and wide across the globe, it may well be the last chance that they are gathered together at East End Park.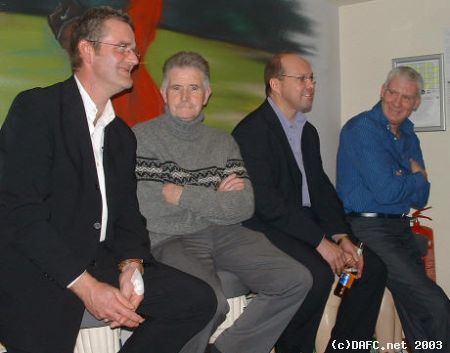 85-86 Legends Reunited
For those of us who were not born, or were too young to appreciate the achievements at the time, here are some of the highlights these players achieved:

1960/61: Won the Scottish Cup for the first time. After drawing 0-0 with Celtic, Jock Stein`s Pars won 2-0 in a replay with goals from Dave Thomson and Charlie Dickson.

1961/62: First DAFC side to play in Europe. Reached quarter finals of Cup Winners Cup where the lost to Upjesti Dozsa (Only time Dunfermline ever lost a home European tie)

1962/63: Beat Everton in Europe, then face Valencia. After losing first leg 4-0 away, The Pars win 6-2 on a cold East End Night forcing a third game play off which Valencia win 1-0.

1963/64: Reach Scottish Cup semi final

1964/65: Again lose out to Spanish opposition (Bilbao) in a third game play off. Reach Cup Final, losing to Stein`s Celtic. Finish only one point from being the Scottish League Champions.

1965/66: Again reach cup semi-finals. Spanish opposition (Real Zaragoza) again Dunfermline`s nemisis in Europe, this time in quarter finals of Fairs Cup.

1966/67: Go out of Europe to Dynamo Zagreb on away goals rule.

1967/68: No European football, but a second cup win! George Farm`s side win at Stein`s Parkhead before beating Hearts 3-1 in the final. Club record attendance occurs when Cup Holders (Dunfermline) play league champions (Celtic) in last match of the season. The official crowd was 27,816 though many more made it through.

1968/69: Reach semi finals of European Cup Winners Cup! Lose narrowly to eventual winners Slovan Bratislava who play Barcelona in the final.

1969/70: Last season of the "Halcyon days" sees Dunfermline play in Europe for the last time to date. Reach the third round of the Fairs Cup before going out to Anderlecht on away goals. Last European game at East End Park sees Dunfermline beat them 3-2 on the 14th January 1970, George McLean scoring the last goal.

An incredible era then for Dunfermline, with all of the surviving players being contacted about a return to the scene of their so many triumphs.

Please come along on the day and show them your support!

COME ON YE AULD PARS!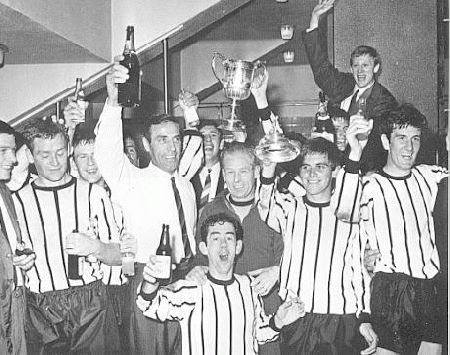 1968 Winners at Hampden Park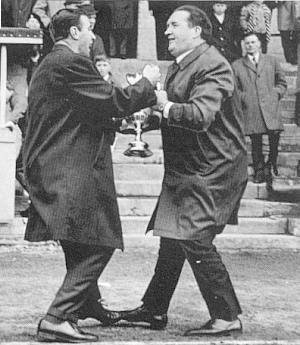 Farm and Stein fight over Cup in 68!




views: 6,521