Dunfermline Athletic 0
Glasgow Rangers 1
Author: Stephen Taylor Date: Sunday, 21st Jan 2007

A very encouraging performance by the Pars saw them match Rangers. Unfortunately,the 0-1 scoreline hardly tells the full story of this close encounter.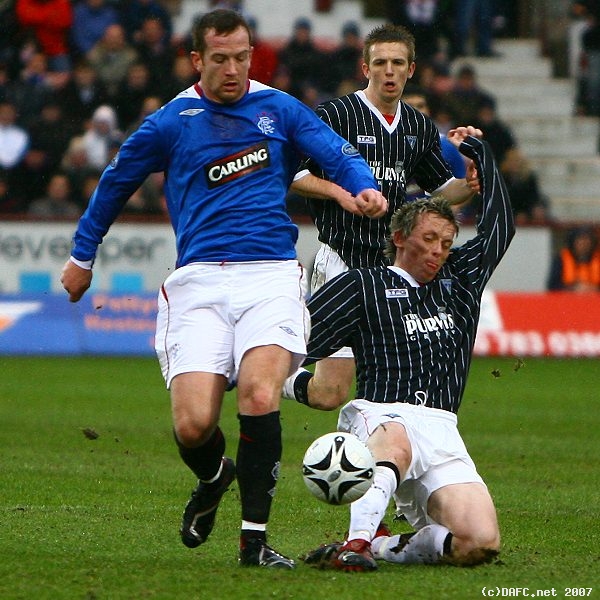 The Pars introduced Bobby Ryan for his home debut and saw the return of Jim Hamilton and Gary Mason with Simmons and Darren Young missing from this weeks line up.

The Pars started with De Vries in goals, Shields at right back, Wilson and McGuire in the centre and Scott Morrison on the left. The midfield quartet had Ryan on the right, Mason and Ross in the middle and O`Brien on the left. Jim Hamilton and Stevie Crawford were the strikers.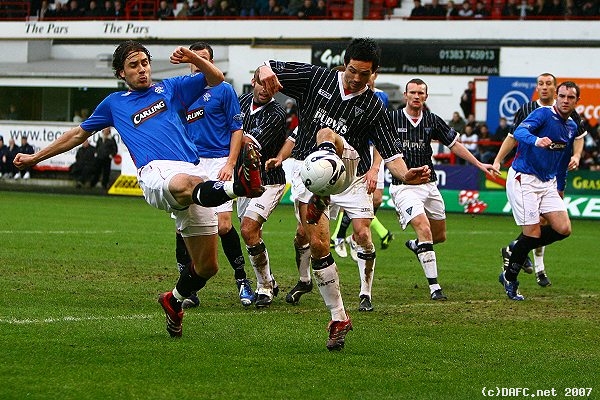 Gary Mason clears the danger.
De Vries had returned from injury and was called into action in 2 minutes as he made a good save from a Novo shot. The Pars also showed intent as they set about Rangers and Jim Hamilton had a good effort deflected for a corner. O`Brien took a good corner which troubled the Rangers defence.

Stevie Crawford hit a shot in 8 minutes that McGregor easily saved. It was then that Rangers scored with a break down the right with the ball crossed over and Adams nipped in at the back post to slide the ball past De Vries. It was simply very sloppy defending by Wilson, Shields & Co and against the run of play, at that point.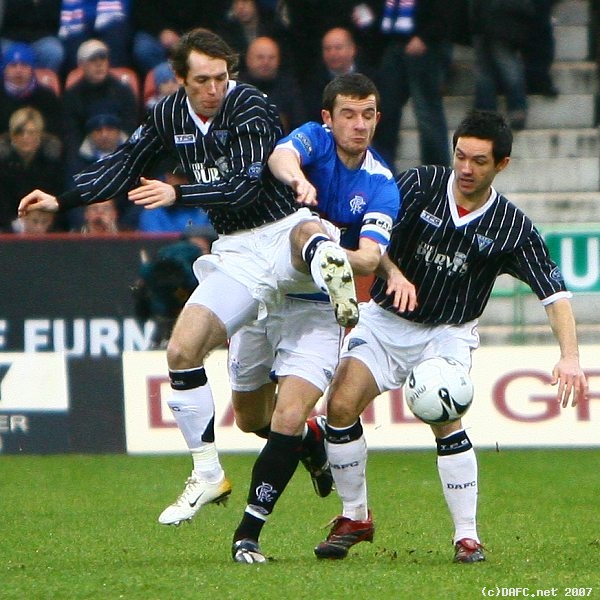 Jim O`Brien and Gary Mason v wee baz.
Hamilton had a good low shot in 13 minutes saved by MdcGregor then Fergsuon brought out another save from De Vries a minute later. A good cross by Bobby Ryan in 16 minutes saw a looping header by Mason easily taken by McGregor.

In what was proving to be a fast and robust game Svennson had a header over the Pars bar in 18 minutes. The Pars were very much in this game without managing to create the clear cut chances they needed. In 30 minutes a Novo shot was saved by De Vries.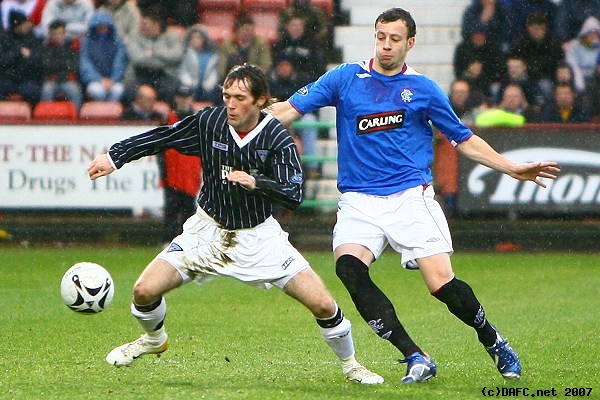 Jim O`Brien in action.
The match was heating up with challenges going in all over the park. Barry Ferguson was yellow carded in 42 minutes for an elbow on Hamilton but it was surely a red card offence. But of course he plays for Rangers and the referee, Underhill, clearly did not have the bottle to send off the Rangers captain. Not that the yellow card stopped Ferguson whining on at the referee for the rest of the game. Then in 43 minutes a blatant handball to block a goal bound Pars shot was also waved away by the incompetent Underhill. The anger in the Pars stands was almost tangible. Not helped when Underhill gave Phil McGuire a talking to for daring to challenge the Rangers goalkeeper for a high ball. Quite unbelievable. Half time 0-1.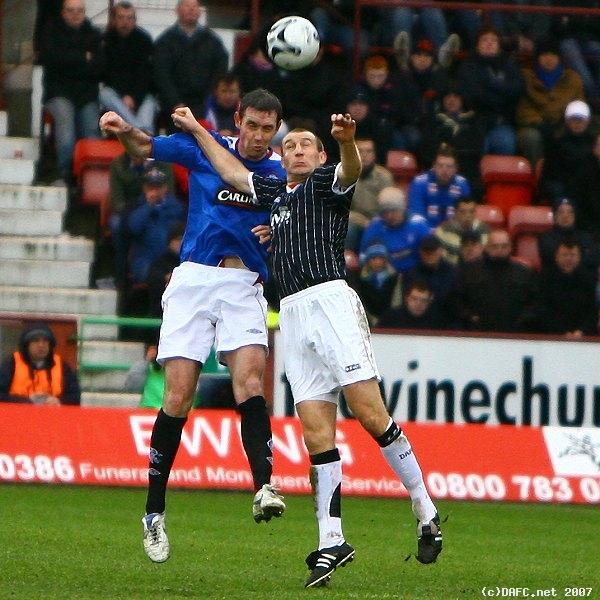 Jim Hamilton v David Weir.
The Pars introduced loan signing Hamill in place of Bobby Ryan. Scott Wilson showed his vlaue to the defence with a superb tackle on Boyd in his own 18 yard area.

Wilson was then deemed to have fouled Boyd in 52 minutes when it appeared he was the victim. From the free kick Hamilton made a good defensive header giving a corner away which De Vries easily took the resulting cross.
Ross was the next to be booked for a foul on Burke and Jim Hamilton was also cautioned for complaining too bitterly about the challenge.

Then to get the Pars fans even more fired up in 60 minutes Nacho Novo collapses in a heep writhing on the ground but there was no foul awarded then a few seconds later he is up on his feet chasing the ball as it came back close to him with evidently nothing wrong wih him. Why was he not yellow carded for play acting? He did get a yellow a few minutes later for a late challenge on McGuire but that should have meant a sending off. Rangers were not getting things their own way so a change was made with Burke being replaced by Buffel in 69 minutes.

Adam Hammill looks physically the strongest of the recent signings and was getting stuck into the match. He played a great cross field pass to O`Brien in 72 minutes but McGregor was able to hold the cross from the right. Boyd had a shot well saved by De Vries in 74 minutes.
Related Stories


views: 3,995