Chance to play at East End Park!
Author: Jason Barber Date: Monday, 17th Feb 2003

On the 29th April, two teams of Pars fans will play each other at East End Park all in the name of charity.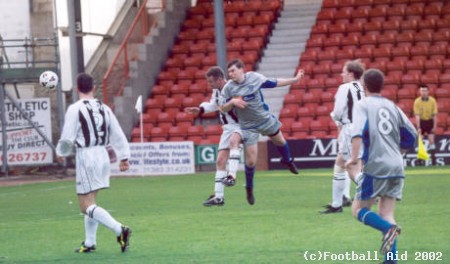 Captained by either assistant boss Jimmy Nicholl or reserve team coach Hamish French, two teams will battle it out in Dunfermline`s home and away strips over 90 minutes.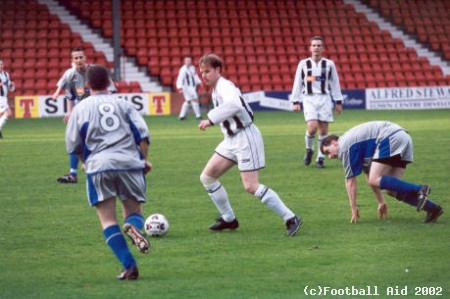 Action from 2002
The following is a press release about the event:

"Dunfermline Athletic is very excited to announce their continued support of Football Aid, with this years event taking place at East End Park on 29 April 2003. Together, Dunfermline and Football Aid will give fans the opportunity to play on their "field of dreams", whilst raising money for a variety of charitable causes."

There are only three weeks of bidding left to "live the dream" so don`t miss out! Log onto www.footballaid.com and bid for a place to play for DAFC in the 2003 football aid event!
To play on your field of dreams, you need to visit www.footballaid.com and bid for a place.

Sammy is also supporting the Football Aid event this year by wearing the Football Aid t-shirt. The Football Aid web address is listed on the back of his shirt, so write it down - donít get left on the bench visit www.footballaid.com


Move over Stevie Crawford, here you come!

Charity Info
Football Aid is a Scottish based charity that works with many of Scotland top clubs, enabling fans to live the dream and contributing funds to local charities and juvenile diabetes research.

Last year Dunfermline supported the work of Chernobyl Children`s Life Line, and through Football Aid were able to sponsor bringing a Belorussian child to Scotland for a one-month health and recuperation break. In addition they are also supporting The Seal Association who provide support services to children experiencing difficulties at home, school or in the community. In addition they also contributed to juvenile diabetes research work undertaken by JDRF.

Related Stories


views: 4,974