Stillie on Well and contract
Date: Sunday, 25th Jan 2004

Derek Stillie`s thoughts on the home win against Motherwell, as well as his thoughts on contract offer for next season.
Stillie was delighted to have another clean sheet, his 8th this season.

He also gives his thoughts on the breakdown of the contract negotiations. He admits that he`s now playing at his best and he can only get better, disapointed to get offered a contract that would make him the lowest wage earner of those playing regularly at East End Park. Listen to his interview by clicking on the link below.

With the current state of finances we can only hope that DAFC can find ways to keep their star players, such as Stillie and Ruitenbeek, so that the push for a European spot happens.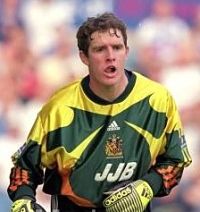 Derek Stillie
Related Stories


views: 2,894