St Johnstone 0 -1 Dunfermline Athletic
Author: Alistair Campbell Date: Saturday, 13th Aug 2011

Paul Gallacher's second penalty save of this fledgling season helped Dunfermline to the 3 points after Potter had been red-carded for conceding the spot-kick. Andy Kirk had scored after half an hour from a rehearsed set play but that was virtually the Pars' only chance.


Dunfermline's gentle introduction to their first season back in the SPL continued with a short spin up the M90 through the roadworks to Perth. This was going to be their hardest game so far – their first away match against a club that had finished comfortably in mid-table last tern – but still not the stiffest of tests. Again there would be a residue of familiarity and Saints' appalling lack of goal threat – they managed 10 home league goals all season – gave reasons for optimism.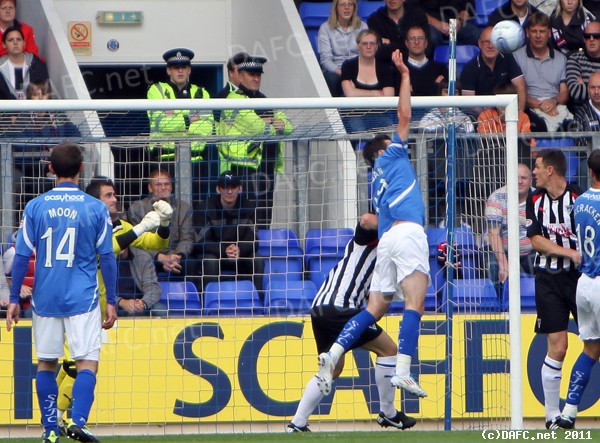 Finnigan handles the ball into the net




The Saints lined up with an attacking formation – basically 4-4-2 but with Canadian Marcus Heber adding additional threat moving in from the right wing. The Pars meantime went with a 4-5-1. Andrew Barrowman wasn't in the squad so Andy Dowie came in to stiffen the midfield as part of a central trio with Gary Mason and Martin Hardie. Andy Kirk was the lone man in attack, Cardle was wide left and Paul Burns on the right of midfield. The defence was unchanged – Gallacher in goals and a back four of Jason Thomson, Potter, Keddie and McCann. The bench is also beginning to have a familiar look about it – Paddy Boyle was the newcomer joining keeper Smith, forwards McDougall and Graham, winger Willis, midfielder Ryan Thomson and young centre back Young as being available to be called upon should the occasion require.



The home team kicked off and enjoyed most of the early play as they shot towards the goal in front of the stand housing the Pars' support. An early scare was survived when, after Mason had been penalised for a shirt-tug, Morris's free-kick was glanced into the net by Finnegan, but given he had used his hand to get in ahead of Gallacher's punch, the effort was disallowed and a yellow card flourished.



The Saints soon won their first corner when Gallacher failed to keep a firm Potter pass-back on the pitch although the keeper claimed a throw should have been given. Certainly, the far side assistant wasn't up with play and when the corner came in one of those "imaginary" fouls was given so no harm was done. St Johnstone won a more legitimate kick in 18 minutes and despite the Pars hauling 11 men back to defend McCracken won the aerial battle but his header was straight at Gallacher who managed to block.

The Saints continued to press with Heber's clever back midway through the half wrong-footing most of the Pars defence, other than Mason who back-heeled the clearance in turn. Joe Cardle meanwhile had had a couple of chances to run at Dave Mackay but when he did manage to curl in a cross Saints keeper Enckelman was more than equal to it.



The first half hour had belonged to the home team, although they had nothing to show for it – Finnegan should have done better pouncing on some slackness in the Pars defence but having swivelled well he blasted over from the corner of the goal area. The opening goal came though, and for the Pars. Cardle had been needlessly tripped in midfield, and the ball was swung across to Thomson on the other wing. He helped it on quickly to Burns who gained a corner. Cardle took it – his first of the game – and in a rehearsed move played it short to Burns, took the return then laid it off to the edge of the box where Thomson had plenty of time to line up the shot. It wasn't the greatest effort from the Hearts' loanee but good enough for Kirk, ever the predator, to divert the ball home from close range. 1-0 Pars and that was the way it stayed to the interval. Dowie picked up a booking for a late challenge on Finnegan and Thomson had a drive blocked but other than that, it was pretty forgettable fare – the ball pinging its way from keeper to keeper without much happening in between.

Half time: Saints 0 Pars 1



Having scored with virtually their only chance of the half the Pars knew that they had been given a great opportunity to get their first win of the campaign and started the second half in decent fettle. Kirk's early lack of control tempted Davidson into a rash challenge for which he was booked, although the Northern Irishman didn't require much treatment, and Hardie and Cardle had half chances but couldn't test the keeper.

Derek McInnes knew he needed to freshen things up and soon made a change, replacing the ineffective Sheridan with new signing Sandaza, and he looked much more lively. Meanwhile Cardle's spin and shot took a huge deflection winning the first of a couple of corners, taken more conventionally by hoisting the ball to the back post, but neither caused any problems.





views: 3,901