Peterhead Postponement Doesn`t Disturb Dunfermline
Date: Wednesday, 15th Mar 2023

Saturday`s SPFL cinch League One encounter between Peterhead and Dunfermline Athletic was snowed off at Balmoor Stadium, delaying the start of the final quarter for the Pars in Scotland`s third-tier.
Following their epic victory over arch rivals Falkirk just a few days prior, the Blue Toon would have been wary of facing an Athletic side whose confidence and belief would`ve been sky-high. However, on the other hand, it maybe isn`t too bad a call-off for James McPake`s men, who have now had plenty time to re-focus following the 2-0 win over the Bairns and, now, prepare for FC Edinburgh at KDM Group East End Park this weekend.

As we have saw already this campaign, McPake is adept at dealing with these scenarios, keeping his players focused, fit and fighting for places within the team during long periods between matches. This was evident again earlier on this week, when Dunfermline Athletic faced Queen of the South in the SPFL cinch Reserve Cup Semi-Final. The starting eleven was filled with numerous first-teamers requiring fitness.

https://twitter.com/officialdafc/status/1635624426182942720
Goals by Kevin O`Hara and Ewan Otoo had the Pars 2-0 up, before Ciaran McKenna netted an own-goal to round off a good display by Greg Shields` side. Now, the DAFC Reserves progress to the Final against Kilmarnock, who also won their Semi-Final 3-0, against Dundee United. But, the momentum built up from another win; another clean-sheet, must boost everyone in West Fife even further. Competition for places will be high and that will be necessary for the run-in, if the Black & White are to win the division.

Alan Maybury`s men have dropped off during the third-quarter, but remain in a strong league standing. The Citizens are third, 17 points behind Athletic. FC Edinburgh have scored plenty goals so far this term, but have yet to net past Deniz Mehemt – following 3-0, 1-0 and 1-0 wins earlier on in the season. Remaining unbeaten at home following this weekend`s game will be key for Dunfermline, albeit they don`t want to give any late encouragement to Falkirk during the title-race.

John McGlynn`s side face a tricky away trip to Queen of the South: if Marvin Bartley`s men can muster up a positiver result as they push for a promotion play-off place, it`d certainly help the Pars` cause. But McPake will know that DAFC just need to focus on themselves if they are to get over the line in first place.

That is a difficult job I am sure, for the players` heads not to wander to what scenes we could be seeing at KDM Group East End Park come May; but for us as supporters, our minds will continue to roam with numerous scenarios of where, when and how we can secure our return to the SPFL cinch Championship.
Reminisce from 2011 !!

Let`s use this image to spur on the players, management team and the fans !!

COYP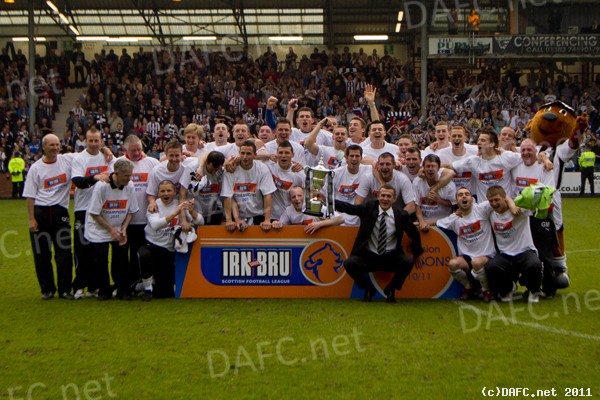 Related Stories


views: 225