Pars review of season 2007/08 Part I
Author: Jason Barber Date: Sunday, 27th Apr 2008

Part one of a brief look back over season 2007/08 which has just (finally!) come to an end:
Cast your minds back just a few months to August 2007, and life was pretty good for Dunfermline supporters all things considered. Despite the narrow relegation from the SPL, the cup run had given some classic matches, and a second modern qualification for the UEFA cup. The draw was particularly kind as fair play league winners BK Hacken from Sweden`s second flight were the opponents. Fans were quick to book their trips to Gothenburg for the away leg as soon as the draw was announced.

New signing Kevin Harper joined a number of players who had been re-signed for the new season as hopes were high for a quick return to the SPL.

The first division campaign saw a huge travelling support head through to New Douglas Park for the first match of the season on the 4th of August. Accie`s excellent home record from the previous season should have served as a warning and an early lead was conceded, which would not be a unique occurance in coming months.....

Mark Burchill scored the first of his fifteen goals on day one, but Hamilton took the three points after Phil McGuire was red carded on his last ever start for the club.

The first four league games saw a Pars player sent off in each match, and only one win against Stirling Albion.
Also wedged into the month of August was Scott Thomson`s testimonial match against a strong Manchester United line up. East End Park was sold out as Alex Ferguson kept his word in sending a very strong line up to face Dunfermline for the first, and perhaps only, time in the club`s history. Wayne Rooney scored twice, Ryan Giggs scored once as did youngster Chris Eagles as stars such as Owen Hargreaves, Paul Scholes, Darren Fletcher and Edwin Van Der Sar travelled North for Nipper.

The big match occasion was a bit of a footballing lesson ahead of the critical UEFA cup qualifying matches against Hacken. An amazing start saw Jim Hamilton score after just one minute, the first European goal in the first European match at East End Park since George McLean`s winner against Anderlecht in 1970.

A serious injury to goalkeeper Roddy McKenzie saw him stretched off in the first half, in what would prove to be his last match for the club. Sean Murdoch made his debut but one moment of horror saw Hacken equalise with a vital away goal. Paul Gallacher joined the club, initially on loan, from Norwich City to add some experience to the goalkeeping position.

The away leg in Sweden saw a huge Pars support head to the match, but the 90 minutes was a massive let down with nobody rising to the challenge on the night. Hamilton and Crawford had half chances to get an away goal, but the Pars meekly went down 1-0 and 2-1 on aggregate to the Swedes who were incredulous at their own progress.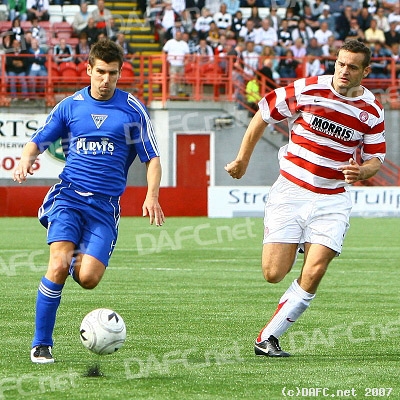 Match number one, defeat number one
There will be post mortems discussed for years to come about the European exit, but there can be few doubts that a massive hangover was suffered due to the "shock" exit from the UEFA cup. Victories were coming in the Challenge Cup trophy, but that was proving scant consolation as the league form continued to point more towards a successive relegation rather than an instant return to the SPL.

The League Cup campaign fell at the first hurdle, after an always difficult tie against Hearts. Stephen Simmons grabbed a late equiliser against his former club to take the match into extra time, when Dunfermline`s legs wilted and the Jambos ended up running out 4-1 winners.

A second league win however came in matchday eight, at home to Partick Thistle. This was followed in midweek with a late 1-0 win over Ayr United to send Dunfermline into the Challenge Cup final for the first time, having falled at the semi final stage twice before. A third sucessive win then came against Queen of the South which seemed to finally show that Dunfermline were finding their feet having enjoyed a mini revival in their fortunes. It was not to last.......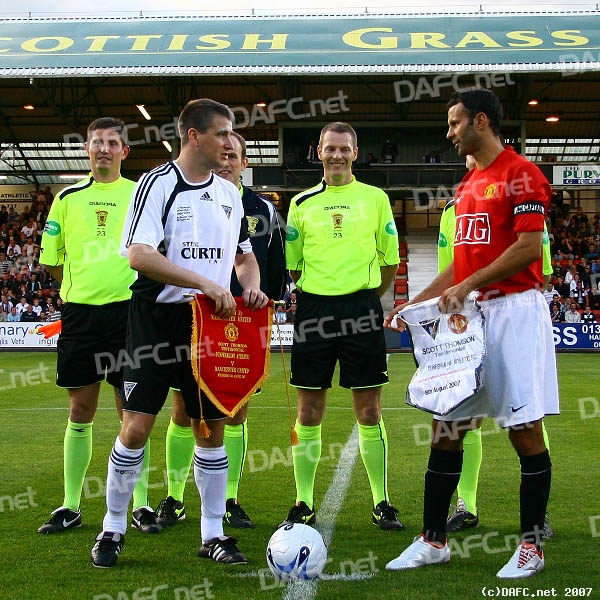 Ryan Giggs gets to meet Nipper
Having won those three games on the bounce, The Pars came crashing back down to earth in the most brutal way the club has endured for many a year. At home to league leaders Hamilton, Richard Offiong was again chief tormentor as Dunfermline conceded five in a day of disbelief from everyone who watched on helplessly from the sidelines.

After such a performance and demorilising scoreline, the next match cannot usually come quick enough. Having been thumped by the league leaders, Dunfermline travelled to bottom side Stirling Albion the following week. Whilst Dunfermline again had a lacklustre attack, another three goals were conceded and it became clear that the Hamilton game was not the one off everone hoped it was.

Livingston back at East End Park followed and the wounds became even deeper when they put four past Sean Murdoch in the Pars goal. A 0-0 draw at St Johnstone finally brought a stop the worst run of defeats outwith the Premier League for many a year.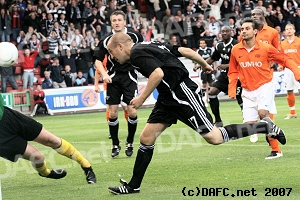 What a start!




A week later, the Perth side were again the opposition in the Challenge Cup final at Dens Park. Having suffered such a poor run of defeats, the Pars fans still took a fairly healthy support up to Dundee, but saw their team quickly concede three goals in the first half hour! Scott Wilson and a Stephen Glass penalty helped towards a more respectable scoreline, with Dunfermline nearly equilising on more than one occasion, but Saints won the trophy (the first in their history)

A one nil home defeat to Dundee on the 1st of December saw the league form yet again fail to take Dunfermline out of the relegation play off zone and Stephen Kenny`s time in charge of the club came to an end that week. An era that had so much promise had ultimately come undone due to a horrific series of results that could not be allowed to continue any longer.

December 2007, with Dunfermline sitting in the relegation play off spot of ninth place in the first division, and the club looking for its fourth manager in just four years. It was not looking like being a very merry Christmas.....



views: 6,151