New Year at East End Park 2004.
Author: Neil Farrell Date: Friday, 2nd Jan 2004


Firstly, on a personal note I thoroughly enjoyed the night on the whole, but there are a few things needing ironed out for next year which I`m sure the staff of Dunfermline Athletic will take on board and rectify for next years event which I am looking forward to already...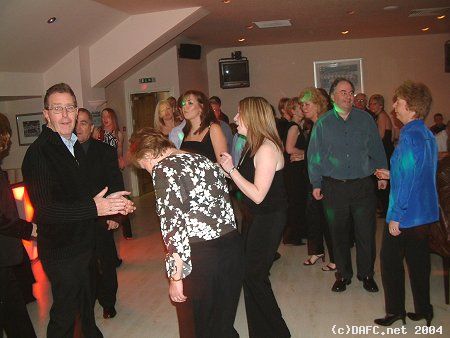 To be honest, I admit I was very much looking forward to be bringing in 2004 at the Hogmanay party at East End Park, Halbeath Road following the good reports about it from the previous year.

To accompany me to the event I brought along Mrs. Neil and also my brother and sister in law. We arrived at the door of Legends just after 7.30pm and after going through the door and up stairs into Legends we were greeted warmly by two of the staff who supplied us with free raffle tickets for a prize draw to be taken later in the evening.

Even at that time of the evening there were no tables available to sit at in Legends or even the adjoining Jock Stein Lounge.

We stayed in Legends for the first drink and my usual drink is Stella Artois, but unfortunately this has not been on sale at East End for several months as it supplied by Tennants who don't provide as much incentives to the Club as Carling do apparently. So I had to settle for a pint of Carling Extra Cold lager instead which obviously is not as nice.
My wife and our sister-in-law usually drink Bacardi Breezers when they are out, but again there was none available to purchase. Instead there were Archers equivalents which my wife doesn't like any of them and the only one that the sister in law likes is the raspberry flavour which, coincidentally, was the only one getting charged full price. The other flavours prices were dropped to £2.30 from £1.50...obviously because they are apparently as popular as a fart in a space-suit.

After the first pint we went through to the Mel Rennie Lounge where it was quieter and also a lot less smoke in the atmosphere thanks to the air-conditioning which was pleasant. It was there that I had my second pint of Carling which wasn`t nearly as nice (perhaps in the pipes too long).
As there wasn't an alternative draught lager available I decided to go onto the draught cider which unfortunately wasn`t in supply at The Mel Rennie so I had to go through into Legends for it each time which I didn't mind as was worth it for the quality.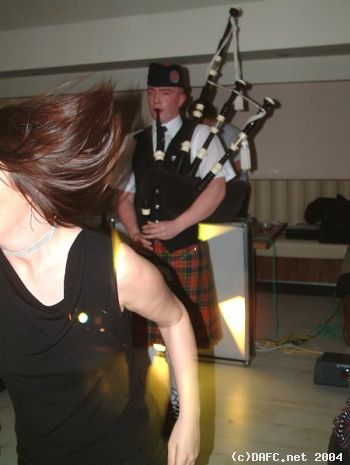 The lone piper bringing in the New Year.





By this stage the bladder was rapidly filling up so I paid my first visit to the Mel Rennie gents which I was pleased to say were immaculately clean. The only downside was it was like washing your hands in the Norrie McCathie Stand, i.e. no hot water!
The hot water supply was obviously isolated so you were forced to wash your hands in freezing water. Ah, well. If the money saved goes to a better offer for Brewster then I can live with it.

During my many ventures into Legends I saw some familiar faces. Steaua was there and she told me that the atmosphere in the Kingdom Suite was like a funeral. Another person that I spoke to and is the girlfriend of a former work-mate of mine was angry to find out that some people had received free tickets on entry to the function. She made a fuss about that (justified IMHO) and received her free tickects that she should have recieved when coming throught the door...how many others missed out on that? There were also several people disappointed with the "band" which turned out to be a solitary guy with a guitar in the Jock Stein Lounge (above).

With the drink flowing and with the appetites increasing I happened to find out about the stovies being served by accident with one of my many jaunts into Legends for cider. No announcement was made in the Mel Rennie Lounge by the "disk-jockey" which was a disgrace. By the time I had went through, told the people in my area and went through to joint the queue it was probably a good ten minutes after it was announced in Legends as several people in Legends had already finished their meal.

Luckily we got served, but others were not so lucky. At bang on 11pm the queue quickly dispersed in disgust as the stovies had ran out and several people, particularly from the Mel Rennie Lounge had not received any. Tut, tut.


The build up to the Bells in the Mel Rennie Lounge was a disgrace with little or no interactivity from the "disk-jockey" who had an amazing knack of clearing the dance-floor (above), with an appalling choice of song following the two previous decent tracks which had generated people onto the dance floor. There was no excitement or atmosphere generated in that lounge unlike Legends which seemed to be bouncing.

The TV screens were switched on to build up the atmosphere with Jackie Bird with that bloke from Monarch of the Glen and it was them who provided the countdown to the bells. Now tell me, if I had wanted to watch the telly, then I would have done it in the comfort of my home and not pay to watch it at a New Year party! That is the job of the DJ, he failed miserably IMHO and was about as much use as a man with one leg in an arse-kicking contest. Every time I went through to Legends there was a better atmosphere and better music…it's not rocket science you know!

Finally the lone Piper (below), arrived…about 15 minutes too late, but give him his due he got the crowd going.

We headed back into Legends and the party was in full swing with a conga-dance in full swing to end a good night that could have been better.

Report: Room for improvement for the next one. 6/10




views: 2,987