Match of the Day!
Author: Neil Farrell Date: Saturday, 27th Aug 2005

www.DAFC.net are delighted to announce the first DAFC.net wedding. Sarah Nicholson (Sarah) and Scouser - formerly Scouser Abroad (Peter Collins).
The bride and groom met on these very messageboards and romance blossomed cumulating to todays magnificent event.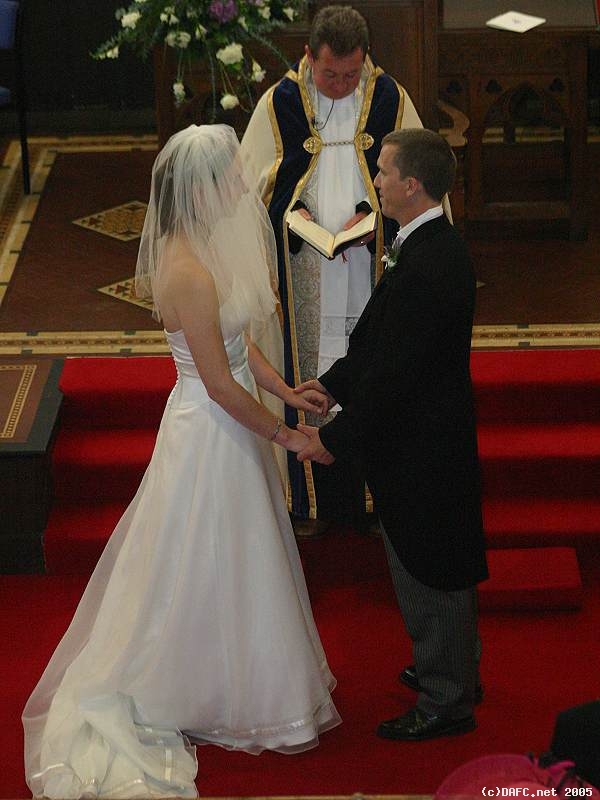 An excellent service at Kilconquhar Parish Church was started with the lovely Sarah arriving late (of course). She looked absolutely stunning in her dress as she entered the Church from the car.

Inside, the wedding service was enjoyed by relatives and friends inside the old church and following that there was a few photos taken outside by a guy who usually only takes pictures of footballers clad in the black and white stripes trying aimlessly to win a header.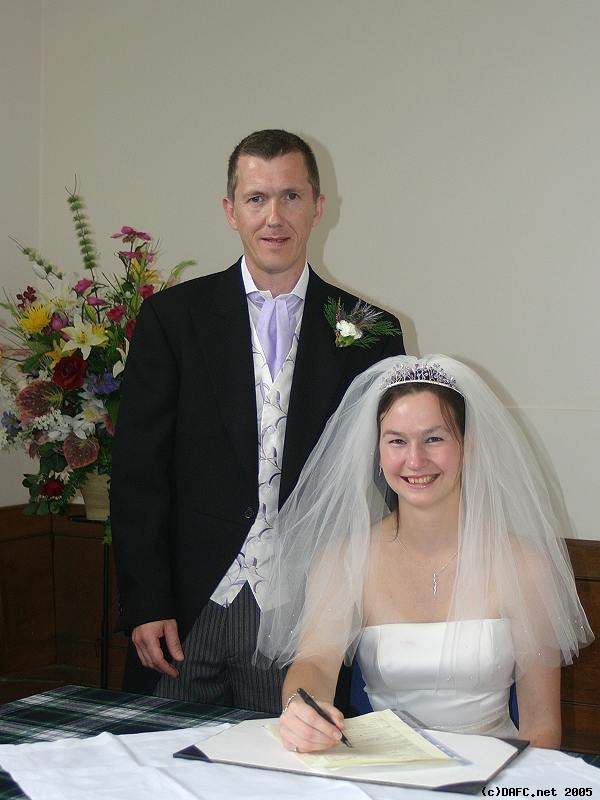 Peter and Sarah sign on the dotted line.
A few miles or so, and at the setting of the picturesque Kilconquhar Castle, a giant Marquee awaited the happy couple and inside it was decorative tables for the wedding reception - and, more importantly - a bar complete with Stella and Belhaven Best on draught!

More photo`s outside first though, with the Castle as the backdrop to the pictures.

By this time i was getting to know the family`s a bit more and found that there were 2 DAFC.netters in Sarah`s family. Her Father was "Gutted since `Gus left" and her brother was "Bandy" - small world, isn`t it?
The meal at the reception went well and an impressive ceilidh soon got the evening reception underway.

It was amusing to see Peter`s family having a good go at the Highland Dancing which they did with great gusto and with a lot of effort I hasten to add, considering it was obviously alien to them. Full marks to them though!

A lot of Sarah`s family were from Canada and were loving every minute of it, particularly the feast of "Stovie" as they called it.




Once the Ceilidh ended it was onto the disco and Peter was strutting his stuff. Wasn`t a patch on one of his sons who was breakdancing though!

All in all it was a very good day with everyone enjoying themselves and Peter and Sarah will be away on Honeymoon for the next 2 weeks to a secret location. Meanwhile, I have 450 pictures to sort out!

We all here from the DAFC.net team wish Sarah and Peter all the best for a happy future together.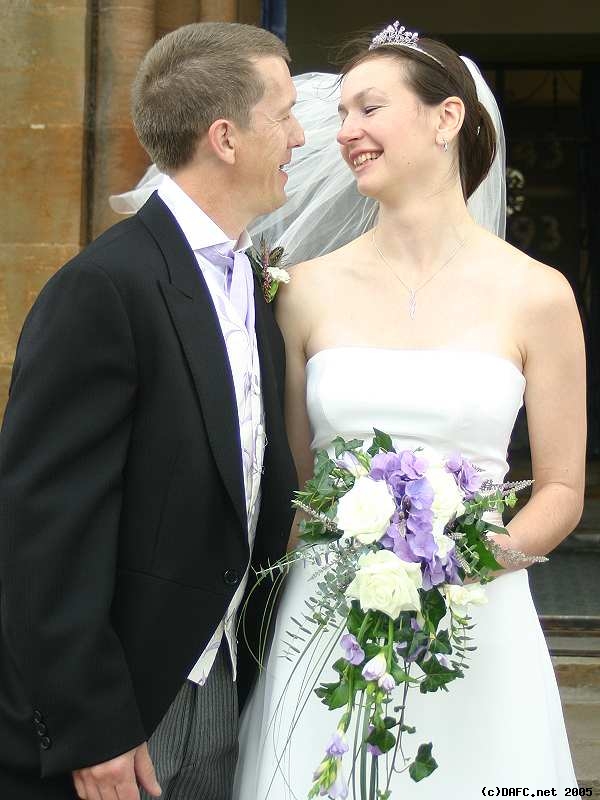 [no description]
Related Stories


views: 4,638