Ian Westwater benefit dinner a huge success!
Author: Jason Barber Date: Monday, 13th Mar 2006

Having been forced to retire from football coaching, Westie is now seeking an alternative career. A number of events are being organised this year to give him a fine send off from the world of football.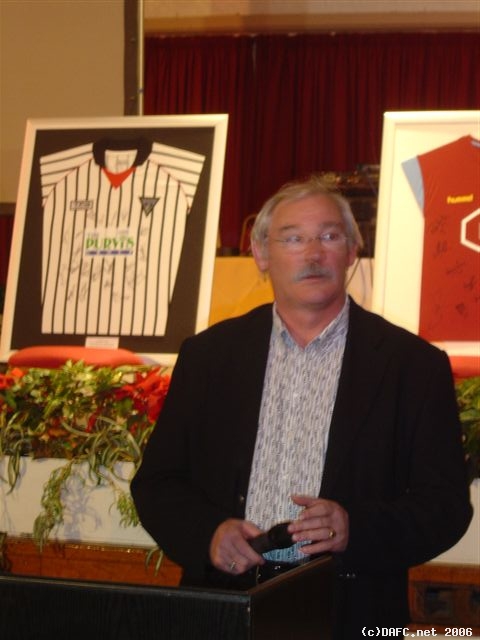 The Glen Pavilion in Dunfermline saw the first event take place on Saturday night. The committee who are organising Westie`s benefit did a sterling job of putting on a Sportsman`s Dinner for over 250 people in the main hall.

Ex Pars centre half Davie Young is the chairman of the testimonial committee and he was in fine spirits before the event. He did confess to being rather taken aback by the late call off from Aberdeen assistant boss Jimmy Nicholl, who had decided he could no longer go ahead with his after dinner speech at the last minute.

Jim Leishman, victorious just a couple of hours earlier, agreed to cover for Nicholl`s absence by extending his own contribution to the evening.

Along with former Pars boss Dick Campbell, and poet (and ex Craigroyston midfielder....) Eric Davidson, the entertainment was always going to be laugh a minute.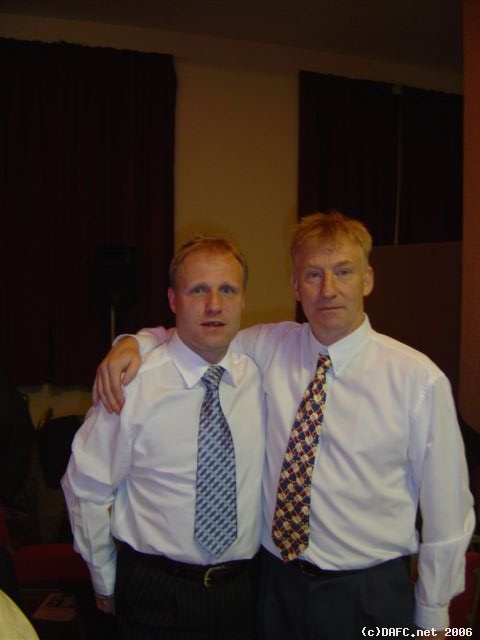 Pars from past and present attended to salute Westie
Young did a brief welcome speech before handing over to the MC for the evening, Jim Leishman. A quick game of "Goal or No Goal" got the whole crowd involved before settling down for their dinner.

A compilation of Westie goalkeeping moments were put onto tape, with the action freeze framed at a cruicial time. Diners had to hold up a piece of paper claiming it either went onto be a goal, or Westie pulled off a save.
A fine dinner was served, along with the even better Kronenburg Cold on draught, and Westie was soon centre of attention once again.

A video montage containing some of his finest stops was put together, accompanied by The Proclaimers "Sunshine on Leith" as the background music. Some outstanding saves were a timely reminder as to just how good Westie had been for Dunfermline in a career that spanned 14 seasons at East End Park over his two spells at the club.
Dick Campbell spoke after the plates had all been cleared away and spoke fondly of the main man, as well as how much he had genuinely enjoyed his time at Dunfermline both as a manager, and as a coach to Bert Paton who was also in attendance. It was great to see Bert finally come along to attend an event involving Dunfermline after too many years of this not being the case, he was given a warm reception by all and hopefully it will not be nearly as long before he returns once again. Paton and Ian Campbell had unfortunately had their reign at Brechin City brought to an end earlier on Saturday, though their spirits did not seem affected.
Eric Davidson followed Dick Campbell up to the microphone, with some excellent poetry rattled off during his speech. If it was remotely possible to remember the rapid fire one liners contained therein, they would be repeated here. Unfortunately that was not the case!

Jim Leishman kept the event free flowing and the now traditional sporting auction was next up in order to raise more cash for Westie`s benefit.

Prizes had been donated to Westie, including signed Scotland tops, shirts from SPL teams and well as hospitality packages put forward by DAFC.

A signed Dunfermline League Cup final shirt, along with hospitality and a mascot package, went for over £900 whilst the majority of signed shirts went for over £300 each. A signed pair of Westie`s goalkeeping gloves was snapped up by Mr Westwater senior!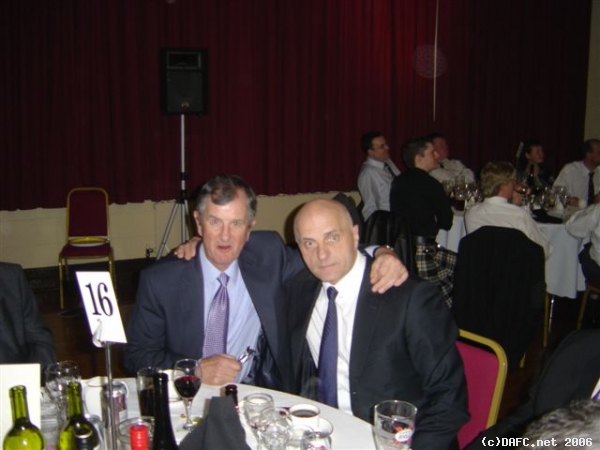 Bert Paton and Ian Campbell




Such are the tax laws involved in such fund raisers, Westie himself was not allowed to speak to the assembled crowd at the end of the event. He was, however, given the opportunity to receive an award jointly from Sammy the Tammy and Sunshine, the Hibs mascot.

Lo and behold, Westie`s partner Gail was in the Sunshine costume to give him a last minute surprise.

He was, thankfully, allowed to at least stand on stage and receive an excellent standing ovation from the supporters who attended on the night before signing autographs to those who requested them.

An excellent night out of sporting memories and banter, thanks to all the organisers who put on an event fit for a Pars goalkeeping legend.



views: 4,838