Exclusive DAFC.Net Interview with Stuart Dougal
Author: Stephen Taylor Date: Friday, 8th Jul 2005

It is only a matter of weeks before the serious action starts again but to keep up the interest DAFC.Net secured an interview with top referee, Stuart Dougal.
I am sure it is a question, you are asked a lot, how did you get into refereeing ?
Well, pretty much like a lot of referees I was a very keen player. As a youngster, I was football daft out playing at all hours of the day or night. So much so, customers in my Dad's shop used to think my parents only had two boys instead of three, as I was always out playing!

I was playing to a reasonable standard at amateur level and interested a couple of local junior teams (Wishaw and Coltness) as well as English side Coventry City. But I had problems with injury and most seriously, I broke my back in an accident. That ended my prospects as a player. I kept involved and coached youngsters and started to ref the odd game being encouraged to start taking it more seriously. Things just developed from there.

What was the first senior game you refereed ?
My first match in the middle was East Stirling v Berwick Rangers and that was in August 1993. At the end of the match, as I was heading up the tunnel, a Berwick director leaned over the stand and shouted at me to chuck it because I was rubbish. I'm not saying he was wrong but I'm glad I didn't heed his advice or I would have missed out on this fantastic "hobby"!

What is your biggest frustration about the game (and players) today ?
Good question! I think it has to be any form of cheating. Whether that is diving to win a free kick or penalty, pulling players back to waste a good attacking move or claiming for things that are clearly not for that particular team. After all, it's their fellow professional that they are cheating and I do think that the SPFA should continue to remind players of their responsibility to the game and to each other.


I have to ask. Did you see the handball by Bobo Balde in last years Cup Final ?

What hand ball?!! No, I didn't and not many did until it was replayed some 10 minutes later during the live broadcast. I did watch the game on TV afterwards and having seen the incident again from numerous angles and slowed it right down, I am still not convinced that it was a deliberate action. I know that probably all Pars fans won't agree with this but, if it had been against their team would they still be so adamant?! Many players these days tend to have their arms in the air as they jump. It is a part of the game which makes life very difficult for the officials as we have to decide if the handball was a deliberate act.

Our artificial pitch has caused some controversy in recent weeks. What do you think ?
Well it might surprise some people that I have not actually had a match at East End Park since the artificial turf went down (I wonder if "Big Leish" had made a request to the SPL for this!). So I will have to reserve judgement but I think from the commercial and community perspectives it is a great plus.

Referees and linesmen are being scrutinised for their team loyalties. So what team do you support ?
(Laughs) Well, being brought up in the west of Scotland people will try to label you. However, although I went to a few matches at Fir Park (my local team) and was a regular at Coltness Utd juniors, I actually spent most of my free time playing football. Saturday morning was school football, afternoon was Boy's Brigade and Saturday night was with my pals. Sunday was for a local boy's club and, again, the evening was with my mates. Even if I did support a team though, I can assure you that it would have no bearing on my decisions during a match. I know many officials who support a team and they have officiated "their team" with total neutrality, and I include a Pars fan in this who was involved in one of your biggest games in the past year or so. His name will remain a secret for now though!

Another recent Pars game you had was the relegation battle at Tannadice in May
Yes, that was quite a fraught affair! It was a great atmosphere and certainly big Jim had some problems restricting himself to the technical area. It was actually a fairly easy game to officiate. I know one or two players got a bit carried away with young Iain Campbell coming very close to a straight red card for some verbals directed at me, not advisable, and big Derek Stillie kicking the ball away after you had scored but otherwise I thought it was a sporting match. And before you ask, yes, there was a foul before the first goal Dunfermline scored, albeit it the United defender did dally a bit!

Do you have any other particular memories of officiating the Pars during your career ?
I genuinely enjoy coming to East End Park as the club is a friendly one and the pitch, well when it had grass on it, was a great surface to referee on. As said above, I can't comment on it just now but I am sure I will get a chance to return at some stage this season.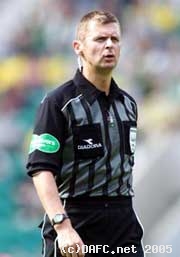 top referee, Stuart Dougal




You are now one of our top UEFA referees. Do you enjoy these ties and do they present particular problems for a referee ?
I really enjoy the whole experience of a European match, just as the players do. Getting away from the "bread and butter" of our domestic league and being given the responsibility to handle some of the major European matches is great. They very rarely cause too many problems for referees, as most players tend to treat foreign officials with a bit more respect because they don't know what he will or will not tolerate. On the odd occasion that there is a problem, you just deal with it as required (see below for an example!)

You get a close up view of some of the top players in Europe. Who are the players you have admired at close quarters ?
Even although I sent off Zidane after 27 minutes in my first match with him (and Edgar Davids followed him wthin 4 minutes!) I saw enough of him to appreciate his wonderful skill. I have met him a few times since and we get along well now so I also admire him for not bearing a grudge. There are many others, too many to name, who I have been lucky enough to officiate but a young Thierry Henry was a standout before he became famous. One of the best players to referee is Marc Van Bommel, ex PSV and now, I believe, at Barcelona. He respects the referee, keeps his colleagues focused on their job and is a great player into the bargain. Rivaldo is another who was outstanding. Gosh, it's only when I try to answer this do I realise just how fortunate I have been to referee so many great players!

Would you encourage young people to take up refereeing ?
Without a doubt. I know it may seem a bit daunting for young people to get into refereeing. You have to start at the lowest level with kids matches and working up to youth level and so on. Sadly, it does seem to me that the referees even at the lowest levels get a lot of undeserved abuse and a times worse which does make it difficult to keep the youngsters in the game. It does seem to be worse than it was in years gone by but if they can develop something of a thick skin and rise above that level it can be very rewarding, and I don't mean financially! I would like to see more ex-players get into refereeing after they finish their playing careers. As detailed above, you get a great opportunity to mix with the best players in Scotland or, if you are good (and lucky enough!)enough, the World.

What rule would you most like to see changed ?
An automatic yellow card for someone taking their shirt off when they score a goal. Football is an emotional game and scoring is what it's all about. However, I have no problem with implementing the rule where a player deliberately provokes the opposing fans by doing so.

It was a bit of a shock to hear that you had taken seriously ill earlier in the year. How are you now ?
Well, firstly, I am fully recovered and in very good health. I recognise that I was extremely fortunate to recover from the brain haemorrhage. I was very well looked after in hospital and between a mix of good fortune and the fact I was very fit seems to have allowed me to make a full recovery. I was also genuinely touched by the support I received from the "football community" and this includes the Press and football fans!!

Do you have any unfulfilled ambitions for your refereeing career ?
Yes, to get a game at Dunfermline's plastic pitch! Seriously though, I don't have any outstanding ambitions left as I have already done the Scottish Cup Final (sorry to mention that again!) and been at a major tournament (Euro 2004). However, I still strive to be appointed to the big matches domestically and to keep getting quality matches abroad.

Finally, Stuart, what do you do away from football ?
Like most people what little spare time I have I like to spend with my family, my wife Barbara and two young daughters at home in East Kilbride. Obviously, I have a day job working as a Corporate Recovery specialist with KPMG. I have to spend a lot of time in the gym or out running so beyond that there is little time for anything else. I like the occasional game of golf and enjoy a glass or two of wine, preferably at the same time!

Thanks for asking me some questions and taking a positive interest in refereeing. Enjoy season 2005/06 and all the best!



DAFC.Net are very grateful to Stuart Dougal for giving up his time to speak with us and to give all Pars fans an insight into how the "man in the middle" sees things. And he is usually right!

If you have a question you would like to put to Stuart, at close quarters, then you may get the chance later this year as Stuart has offered to come and do a "Meet the Ref" Night for the Pars Supporters Trust.



views: 2,686