Dunfermline players impressed
Date: Friday, 18th Mar 2005

After training on the new artificial pitch at East End Park - in preparation for tomorrow`s inaugural game on the new surface against Hibs - DAFC`s captain Scott Thomson and defender Andy Tod have both given it their seal of approval.

Scott Thomson says: "The pitch is good. It definitely feels a lot better than the old one.

Technically it should be better, because on grass you can use excuses - such as divets and bobbles - when things go wrong, but you don`t get that on this surface, as it`s flat.

I`ve had two really bad injuries on grass, so I am in favour of artificial surfaces."

Andy Tod says: "I think it`s better than the last pitch. It has more grip due to the rubber dressing and the pace is more natural. Other clubs are bound to notice the improvement. "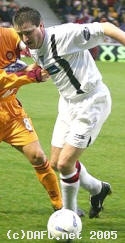 Scott Thomson
Jim Leishman, Director of Football at DAFC, says: "We know there will be some people who are going to be sceptical about our new pitch, but the proof is in the playing.

This artificial surface is far better than the prototype surface we had before - as with everything, the technology behind it has rapidly advanced, even in less than two years. We look forward to other SPL Clubs trying it out and finding out for themselves just how good it is."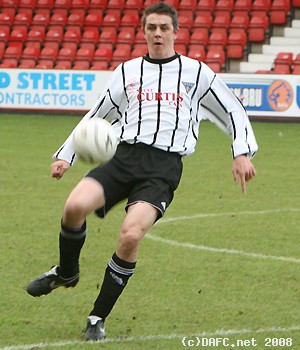 Andy Tod
For the last 18 months DAFC has been taking part in UEFA`s pilot programme for different kinds of artificial surfaces - along with Dynamo Moscow in Russia, Salzburg in Austria, Almelo in the Netherlands and Orebo in Sweden - and now due to advances in technology the prototype artificial surface has been replaced with a next generation surface, which is vastly superior.

The new pitch is made from XL Turf Champ, a new generation artificial playing surface designed specifically to maximise player comfort and safety.

It is the leading brand in a new breed of smart and safe non-grass surfaces, harnessing a unique technological system to replicate the natural give of grass.

A special ceremony to mark the laying of the new pitch is being held at East End Park prior to Saturdays`s game, including a pipe band, entertainment and a half time penalty shoot out with the Young Pars.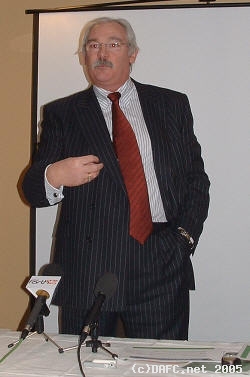 Jim Leishman




[I`d like to take this opportunity to apologise to Scott Thomson for the quite absurd story on the message forum regarding his supposed fall out with the manager. - Brian]



views: 2,753