Dunfermline Athletic 1 - 4 Rangers
Author: Alistair Campbell Date: Friday, 10th Feb 2012

Beforehand there was a real belief that the Pars could pull off a rare win against the beleaguered Glasgow giants, and this was given extra credence when Kirk gave the Pars the league early on. However, the twin blights of defensive errors and injuries persist at East End Park; Rangers were handed the lead by half-time through Healy and McCulloch and the Pars created too little to look like they were ever going to pull it back in the second period. Late goals by Aluko and Kerkar compounded the misery.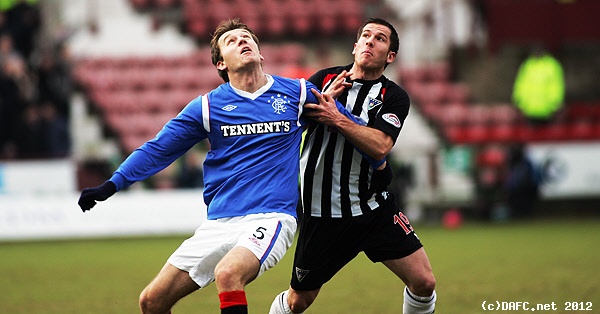 With the threat of insolvency and possible liquidation hanging over Rangers this was billed as possibly the last ever match between the two sides, and if it should come to pass that we seen no more of the concomitant nonsense that is brought to the game then that may be no bad thing. In any event, a win would have been nice (even if there is a chance the record would be expunged).

SPL rules mean that Kyle Hutton was unavailable to play against his own team, and so Gary Mason came back into the starting line up, and inherited the captain's armband from Kevin Rutkiewicz who retained his centre-back place alongside Keddie. As Iain Turner hadn't recovered from his midweek back spasm, there were no other changes – Chris Smith kept the gloves, new signing Jordan McMillan was at right back and Paddy Boyle his equivalent on the left. Mark Kerr was in the middle, Burns on the right, Graham on the left and Buchanan and Kirk were the forward duo.

The bench was restored to the maximum seven with the presence of a sub keeper in Ryan Goodfellow, but Shaun Byrne came in alongside Ryan Thomson and Paul Willis at the expense of Steven McDougall who dropped out again. Martin Hardie and Andy Dowie were also there along with Joe Cardle.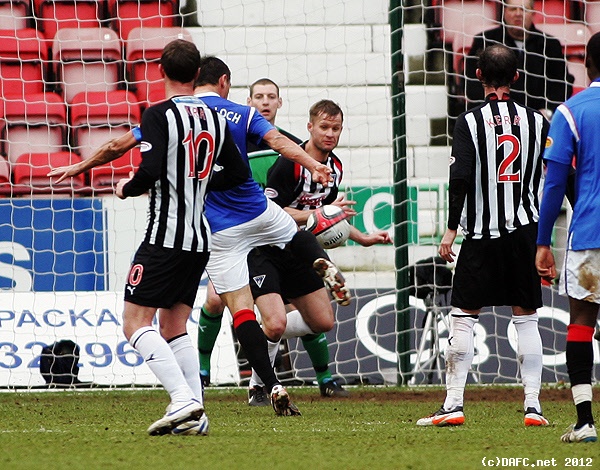 Sat Feb 11th, 2012 East End Park
The visitors may be seriously depleted having shelled several players during the transfer window, but still managed to name 9 full internationalists in their starting eleven which matched the Pars' 4-4-2 formation. Lee McCulloch started in attack alongside David Healy who, despite his lack of first team action, remains ahead of Andy Kirk in the Northern Ireland pecking order.

It was another Northern Irish international, the highly regarded Steven Davis who made the first impression, latching onto a lucky break of the ball within 40 seconds to power into the Pars box, but with Chris Smith looking apprehensive, Davis turned back and trouble was averted. So too was the danger from a couple of quick corners in a dozen minutes gained after Aloku skipped down the touchline to put pressure on Boyle.


So no quick goal conceded for once which was helpful, and indeed the Pars soon came close to taking the lead. Graham seemed to have had chances to win possession from poor passes but never had the conviction or alertness. However in 14 minutes he intercepted a Davis pass designed for right-back Bartley, hurdled Bocanegra's attempted tackle before crashing a shot past McGregor but off the post. The ball came back to Kirk whose follow-up effort was blocked before Buchanan went to ground looking for the loose ball. No penalty, and a great chance spurned, before joy of joys, the Pars took the lead two minutes later. Bartley was struggling to get his bearings and let Boyle find space behind him. It took Rutkiewicz to pick Paddy out, and his fine chest high cross was bundled home at the far post by Kirk


Now we had the lead, it was important not to lose it quickly. The defence were at pains to keep Aluko from getting into the box lest he should topple over, yet in 21 minutes he still managed to get the cross in and with McMillan too slow to react Papac had a chance but blazed over. This should have been a lesson learned, but 3 minutes later more rickety defending gifted the equaliser. Boyle seemed to be eased off the ball by Aluko and Bartley's cross to the edge of the area was not well defended, but with a half-hit shot seemingly making its way to Smith, Keddie chose to step in, and his clearance cannoned off Edu into the path of Healy who couldn't miss. One apiece. Rangers had another chance within 5 minutes, although this time Keddie's challenge on Healy was better judged before Davis blasted the loose ball off the bar.


Some flares had been let off in the North-East stand and the smell of sulphur was still hanging in the air when Rangers took an underserved lead. Brian Winter delayed before giving a free-kick for an innocuous looking challenge from Kerr on McCulloch, but when the ball was swung in to the back-post, Bocanegra was able to pick out the unmarked McCulloch and he fairly blasted the ball into the roof of the net from 12 yards out to give the visitors the lead at the break.

Half time: Pars 1 Gers 2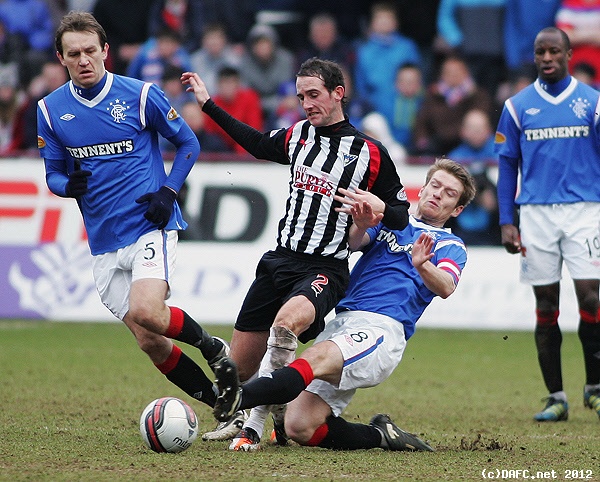 Sat Feb 11th, 2012 East End Park




Both teams traded blows in the early exchanges of the second half – Davis read Kerr's intentions early on to win the ball but McCulloch ended up putting a chance over the bar before Graham got a too rare chance to run at Bartley – after turning him inside out he had the chance to cross but his ball fell behind the Pars front-line. The left side looked like it might give the Pars some joy as Kerr managed to pick out Boyle but Aluko was back to defend, before Graham just managed to squeeze the ball to his full back, but McGregor held Boyle's shot at his near post.

The Pars were trying to get the all-important third goal – Burns was fouled 30 yards from goal and Kirk took responsibility for the free-kick, but his late dipping shot dipped too little and too late. He soon had possession again, but just failed to take Boyle's pass on the run, being forced wide, and his lobbed cross never looked remotely like being won in the air by Buchanan, Graham, Boyle or Mason. That illustrated the sterility of the Pars attack – no aerial threat.





views: 5,428