Dunfermline Athletic 0 - 0 Dundee
Author: Alistair Campbell Date: Saturday, 15th Jan 2011

The Pars surrendered their lead of Division One in a frustrating game against Dundee. Despite playing with a man advantage for almost the entire second half after Higgins was sent off, the Pars couldn't break down a stubborn defence.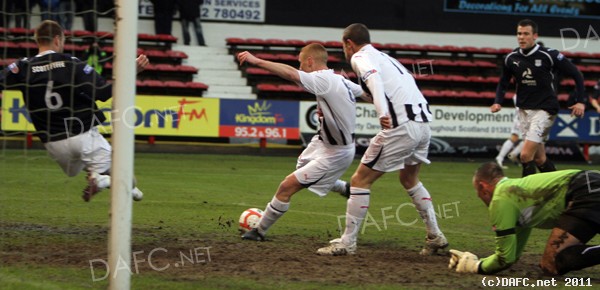 With Phinn injuring his ankle in training, Ryan Thomson made his first league start, and Clarke came back in for McDougall. The defence were given the seal of approval despite losing a couple of goals at Montrose so McGregor again partnered Keddie at centre-back, and of course Woods, McCann and Smith kept their places. Wullie Gibson and Joe Cardle returned to the bench but Graham and Willis got the nod ahead of them, with Kirk and Mason making up the starting eleven.

As for Dundee, Griffiths was suspended, his place going to a trialist, believed to be former Clyde player Tom Brighton and Nicky Riley was back in a side that had done pretty well since the administration procedures commenced. A second change was enforced shortly before kick-off when assistant manager Matt Lockwood took ill and young Kyle Benedictus was drafted in instead.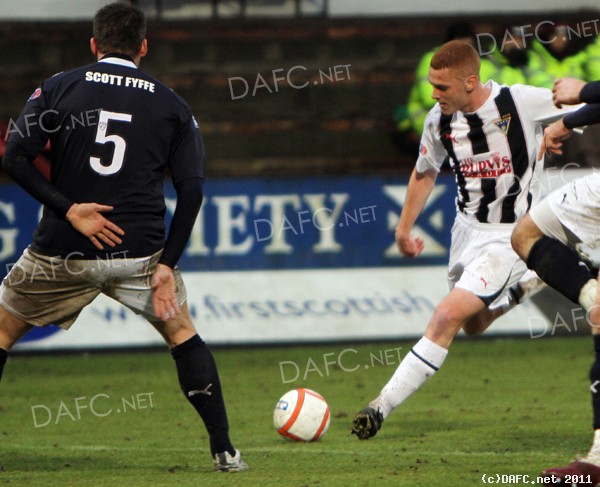 Ryan Thomson fires in a cross
Heavy rain meant a late pitch inspection had to be passed before Dundee kicked off, opting for a 5-3-2 to accommodate the late switch. Higgins suffered an early booking for tangling with McGregor, and McCann had a moment's aberration, passing to Higgins then getting caught in possession by the same player as both teams struggled to come to terms with the sticky pitch. However, the Pars adapted the better, with Willis and Woods getting some joy down the right flank, despite the notorious nature of the pitch in front of the main stand. In the seventh minute Woods swung over a deep, high cross beyond the back post where Graham was in space, only for Weston to block first the winger's shot, then Thomson's follow-up from 4 yards when surely the youngster should have scored.


Thomson was featuring prominently, getting on the end of another Woods cross, although his down-ward header proved no problem for Douglas in the Dundee goal, then in 19 minutes he dropped a shoulder to gain some space for himself, winning a corner. Willis was again on the dead-balls, and at his second attempt he picked out Woods, but his head-flick was diverted away from the lurking Kirk.


That was as close as it got in the first period – the Pars had Dundee pinned back for much of the game, but couldn't create much. They tried to play from the back, Smith throwing to McCann or Graham when the opportunity arose, and Keddie even led the charge at one point, after robbing Harkins, getting to the halfway line then trying to outrun the defence.


There was controversy in the 32nd minute when Higgins was late on McGregor. It looked more like a booking than the forward's first indiscretion, but perhaps mindful of the implications of a second yellow, or swayed by McGregor's lack of reaction, referee Charleson took no action other than awarding the free-kick. Thus reprieved Higgins featured in the best move of the game to date, quickly shifting Brighton's knock-down to Riley, but the midfielder hurried his shot, as did Willis just on half-time when set clear by a quick-free kick. Had a little bit of composure been demonstrated by either player then the game might not have been goalless at the break, but goalless it was.

Half time: Pars 0 Dees 0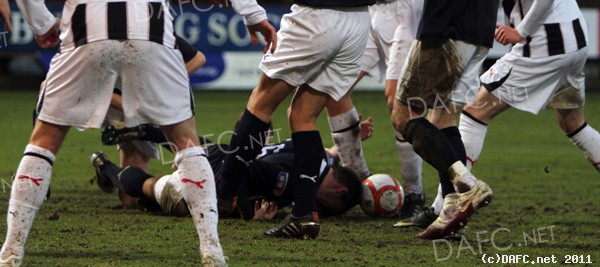 Dundee`s Rhys Weston gets his head to the ball




A tactical switch from Barry Smith saw the Dees move to a 4-4-2 at the break with Benedictus moving to right back as Irvine switched to the left. This shortly became a 4-4-1 as Higgins needlessly and foolishly went through the back of Keddie as the latter shepherded an Irvine ball out for a bye-kick. No choice this time for the referee and Higgins was making the long walk from the Cowden end to the tunnel.





views: 5,169