Dunfermline Athletic 0 - 4 Livingston
Author: Jason Barber Date: Saturday, 3rd Nov 2007

Yet again completely outplayed, out thought, outshone and out of even the remotest possibility of being promoted. Dunfermline yet again capitulated in front of their own support as they were humbled 4-0 by a by no great shakes Livingston side.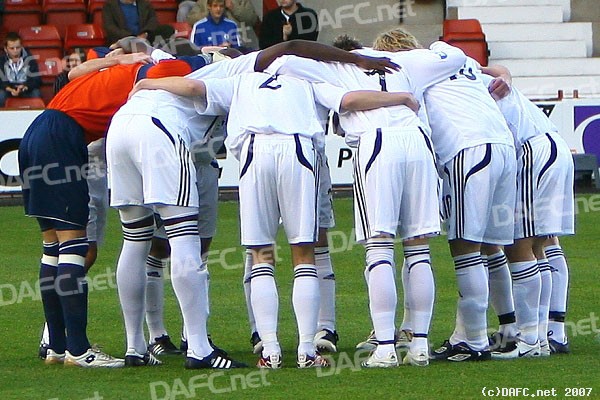 So, what happens now? At a time when the manager is admitting to the Irish press that he is not holding out for the cash compensation that would come with any dismissal, he is yet again in the spotlight after seeing Dunfermline continue their worst set of results in living memory.

After a 5-0 home defeat to Hamilton and a 3-0 defeat to part time (and then bottom of the table Stirling Albion) Dunfermline somehow managed to show similar levels of ability and tactical nous to carry that streak onto a 4-0 defeat at home to struggling Livingston this afternoon.

If anyone has the answer as to what happens now, please send it into East End Park on the back of a postcard, as there does not seem to be any simple solution to the current problem.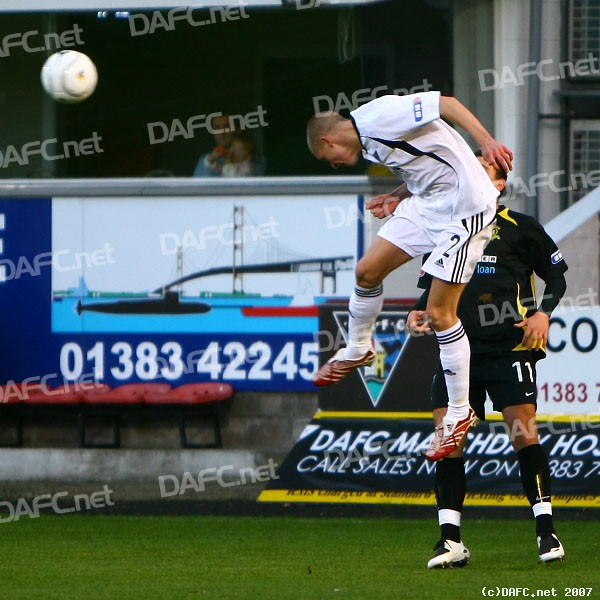 Calum Woods in action.
For what it`s worth, I`ll try my best to give a report of a game which yet again saw Dunfermline do little in front of goal, and look completely amateurish at the back yet again. A running theme if nothing else.

Sean Murdoch continued in goals, with Paul Gallacher again missing out presumably injured. The back four consisted of new club captain Scott Wilson alongside Sol Balmba at the heart of what was even until quite recently, a very tight defensive unit. Calum Woods continued his recent (and positive) role at right back, whilst debutant Danny Murphy was on the left.


The midfield, for what it was worth, consisted of Bobby Ryan hugging the right touchline and Scott Muirhead running about a bit on the left. Stevie Crawford and Stephen Glass were given the job of trying to both win the ball and create chances between them, the former being part of either players locker at any point in their careers up until this point. Perhaps they are going to be converted into ball winning hardmen well into their 30s?

Mark Burchill and Tam McManus were given the unenviable task of trying to score that rarest of all things in Scottish football just now, a Dunfermline Athletic goal.
Dunfermline kicked the match off and the scoreline of 0-0 should really have been celebrated, had the support known what was about to become the footballing feast in front of their eyes.

Remarkably an early corner was won by The Pars, but it was to be a false dawn before too much longer. Any barely half chances that were created ended up high into the East Stand amongst a small, and not overly vocal, Livingston support.
McManus did have the ball in the back of the net just before the half hour mark, but the flag had long since been raised and everyone else on the park had stopped playing. Desperate times call for desperate measures right enough, and you cannot blame him for reminding everyone what it looked like for a Pars player to stick the ball in the back of the net...

A poor game turned even worse for Dunfermline in the seconds leading up to half time. As Stephen Kenny correctly pointed out in one of many recent interviews, Dunfermline seem to crumble after they go one goal down. That was exactly what happened as Stephen Craig had the relatively simple job of heading into goal as the half time whistle approached. So 1-0 down at half time, at least it was an improvement on the previous match at home to Hamilton Accies......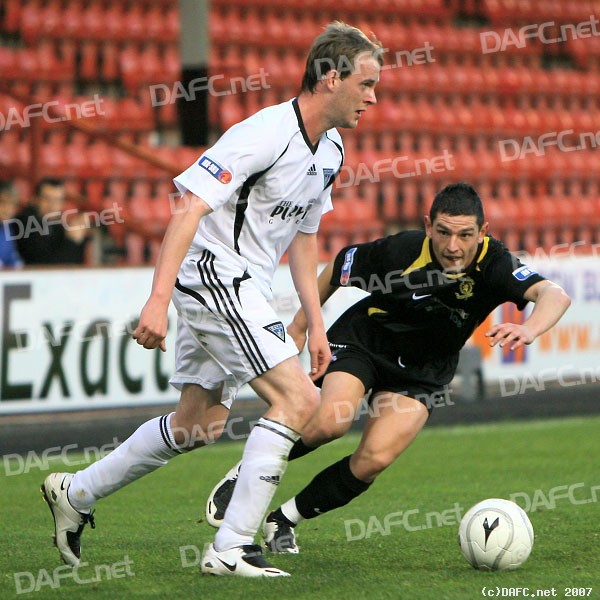 Scott Muirhead in action.




The second half took what felt like an age to start, as Livingston were kept waiting by a Dunfermline side which was perhaps being given a boot up the backside during the interval? Or perhaps not.

Fawlty Towers defending, if there is such a thing, took place just five minutes into the second half. Sol Bamba and Stephen Simmons (on for the injured Callum Woods) both ended up looking like Keystone Cops and Craig was on hand to double his tally, and Livingston`s lead. If the crowd had been surprising patient up until this point, things started to change after that shambles.



views: 5,795