DAFC Dream Team Winger
Date: Tuesday, 19th Apr 2005

In association with the matchday programme, we are asking you to record your votes for you favourites players. From your votes, the team that is deemed the greatest will be immortalised in a Dream Team limited edition print. One copy of this print will be given away free in a competition.

It's a sad fact that the glory days of wingers are long gone. Modern tactical thinking places more emphasis on 'wide midfielders' or 'attacking full-backs' rather than the out-and-out skill of a ball-playing winger. The goal scoring heroes at any club were only as good as the wingers and inside-forwards supplying the chances and it was no different at East End Park. Look at any of Dunfermline's best centre forwards and you will find an equally legendary winger alongside them in the team. For that reason we think our Dream Team needs to include one of the these players.

VOTING HAS NOW CLOSED



The club's first league title came in 1925/26 and JIMMY STEIN was a vital member of that side. Not only did his crosses help Bobby Skinner to a record number of goals but he proved to be something of a marksman himself, scoring 21 times as the Pars set a new best of 109 for the season. Transferred to Everton in 1928, Stein went on to gain winners' medals in the Championship and F.A. Cup, netting in the 1933 Final against Manchester City. As with Dunfermline, he was a regular scorer for Everton but his main contribution was to set up countless goals for the legendary Dixie Dean.
The rise of the Athletic during the early Sixties was in no small way down to the superb skills of GEORGE PEEBLES. Peebles was what became the stereotypical Scottish winger: small in stature, great ball control and dribbling skills. He hugged the right touchline and was able to deliver an accurate cross or pass under the strongest pressure. Signed in 1955, his eleven seasons at East End saw him play 408 matches and score 84 goals. His cross set up the opening goal in the 1961 Cup Final, ironically after he had switched to the left, and this success led to George displaying his talent very successfully on the European stage.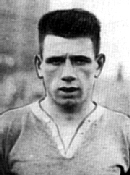 Jimmy Stein
HARRY MELROSE arrived in 1958 and proved a real hit with the fans. A more direct player than Peebles, he had a great turn of speed and tremendous shooting power which no doubt accounts for his fantastic record of 106 goals in 262 appearances, the second highest post-war total. On 18th April 1959, Harry achieved the remarkable feat of scoring six times in a match, against Partick Thistle, a record for a winger in the Scottish game. He was converted to inside-forward by Jock Stein and this allowed the manager to add another talented winger to an already potent strike-force. Harry returned later as Manager and as General Manager of Dunfermline.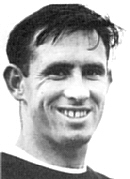 George Peebles
One of the best and most popular Pars' players of all-time, ALEX EDWARDS made his debut against Hibs on 19th March 1962 at the tender age of 16 years and 5 days. At the time he was the youngest ever outfield player in a Scottish League match and remains the youngest to play for Dunfermline. His skill on the wing and accurate crossing endeared him to the fans although he was later converted to a midfield role in which he demonstrated his brilliant passing ability. Alex helped the club reach two Cup Finals and made 30 appearances in European football. His first was probably his most memorable as the Pars slaughtered Valencia 6-2 with Edwards outstanding.
It was a matter of great regret to Athletic supporters that he never gained a full international cap to go with those he earned at youth, amateur and Under-23 level. After 344 appearances and 56 goals for the Pars, he moved on to Hibs in 1971. Jock Stein once said that Edwards should have brought Dunfermline their largest ever transfer fee. The financial crisis at the time meant that they received the ridiculous sum of £13,000.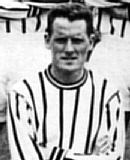 Harry Melrose




The famous match against Valencia saw the European debut of another young winger, JACKIE SINCLAIR. The 19 year old, like Edwards, had a great game and scored twice, this being one aspect of his game that was better than his younger colleague. His first league match at East End, in November 1961, saw him net a hat trick in a 6-2 win over Airdrie. He was to score a total of 62 goals in 156 matches for the Pars, a terrific return for a winger. Sinclair tasted the disappointment of Cup Final defeat in 1965 before making a £25,000 move to Leicester. After eight years in England, during which time he helped Newcastle win their last major trophy, the Fairs Cup, Jackie returned to Dunfermline for a final two seasons.

During the early Eighties, JIM BOWIE made the unusual transformation from central midfielder to winger, rather than the other way round. Signed in 1976, Jim was never an automatic choice, often to the annoyance of the support, although this was as much to do with injury as anything else. It was under Pat Stanton that he moved out wide, yet Jim never saw himself as an orthodox winger in the way that team-mates such as Mark Williams or Colin O'Brien were. However, it was on the flank that Jim enjoyed his best spell, particularly after the emergence of a certain John Watson. The two linked superbly, Watson's aerial prowess complemented perfectly by Bowie's accurate crossing. There was also the additional threat of Grant Jenkins or Norrie McCathie if Watson wasn't on the end of a cross. Jim left to join St. Johnstone during 1986/87 after playing 227 games for the Pars, knowing that he'd played a major part in helping the club on its way to regaining its place in the top flight of Scottish football.



views: 6,565