DAFC Dream Team Full Backs
Date: Tuesday, 22nd Mar 2005

In association with the matchday programme, we are asking you to record your votes for you favourites players. From your votes, the team that is deemed the greatest will be immortalised in a Dream Team limited edition print. One copy of this print will be given away free in a competition.

VOTING HAS NOW CLOSED



Bobby joined the Pars as an 18 year old in the autumn of 1947 and broke into the team later that same season. A right-back renowned for his tackling, Bobby was part of the side that defeated the mighty Hibs in the 1949 League Cup semi-final, keeping winger Willie Ormond very quiet. After six years and 180 appearances, Bobby was expecting a benefit from the club and when this failed to materialise he refused to re-sign and was transferred to Raith Rovers for £750. Manager Bobby Ancell referred to the player as being "virtually stolen". He spent two miserable years with Raith before Hearts rescued him in May 1955. A dream come true for this fervent Hearts supporter, Bobby went on to win every domestic honour over the next few seasons.
In bringing Willie back to Scotland in 1960, Jock Stein pulled off a masterstroke that he came to regard as one of his best ever. He saw the left-back as the ideal man to carry out his instructions on the field and the two formed a great partnership, as the Cup triumph demonstrated. It was in Europe that their tactical expertise came into its own, as Willie became the first Scottish player to take up the "sweeper" role and, furthermore, perform the task extremely well. Prior to the Cup Final, he became the first Pars player to be capped by his country – in his case Northern Ireland - since the legendary Andy Wilson some 40 years earlier. By the time that Stein left Dunfermline in 1964, recurring injuries had brought an end to Willie's playing career after 107 appearances for the Pars. He was the natural choice to take over as manager and did the job very successfully.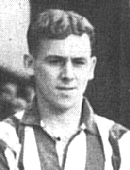 Bobby Kirk
One of the real heroes of the Athletic sides of Sixties and surely favourite to make the 'Dream Team' is Willie Callaghan. Willie was practically the only right back used by the club for around a decade and his 411 appearances rank him third in the all-time list. He played in more European matches (34) than any other Pars player and was only the third to represent Scotland, picking up two full caps during 1969/70.
Born in Cowdenbeath (but we won't hold that against him), Willie played junior football with Crossgates Primrose before moving to East End in 1960 at the age of 17.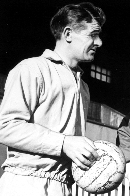 Willie Cunningham
It's impossible to mention Willie Callaghan without his full-back partner John Lunn. On their own they were great players - skilful, commanding and hard tackling - but together they were simply superb, with an almost uncanny understanding. They were idolised by the supporters, who regarded them as the best full-back pairing in British football and could never understand why they were so ridiculously neglected by their country. The two of them played in the Pars' 1968 Scottish Cup victory and it's a testament to John's courage and determination that his winner's medal was achieved after he underwent intensive treatment for leukaemia. Another local lad, he signed from that production line of talent, Blairhall Colliery, and after his debut in April 1963 went on to make 345 appearances for the Athletic. Tragically, his illness returned and he was forced into retirement early in 1972/73. On December 10th, 1973 - the day after his 31st birthday - John passed away.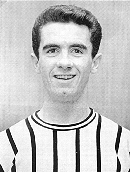 Willie Callaghan




Cup Finals were most definitely not on the agenda for the next player, who could easily have been selected as a midfield option. Bobby was brought up as a Pars fan and must have dreamed about leading the club out at Hampden in something other than a league fixture against Queen's Park. Bobby's commitment and sheer hard work saw him achieve success in his medical studies and also break the club record for league appearances. Although that has since been surpassed by Norrie McCathie, "Doctor Bob's" career total of 407 is Dunfermline's fifth highest.
Called up as an 18 year old in 1977, he was a midfield player until Pat Stanton, in one of the few successful things he did at the club, moved Bobby to right back in 1981. Taking over the captaincy from Hugh Whyte, Bobby was proud to lead the Pars from the Second Division to the Premier, one of the few players to remain part-time. His integrity saw him express concern about his own standards at a full-time club and, prior to season 1988/89, he moved on to Alloa. He could have joined Falkirk but his love of the Pars meant that he refused to play for one of their rivals.


Even as a youngster, everyone knew that Jackie McNamara was destined for a career at the top. A product of the youth development system, Jackie was signed up Iain Munro in September 1991 and established himself in the first team when Bert Paton took over a couple of years later. His skill and tenacity more than made up for his small stature, with his overlapping runs and understanding with Ivo Den Bieman giving the Athletic a real threat down the right. There was genuine sadness when he was sold to Celtic in October 1995 but it turned out for the best - the Pars gained a record fee of £600,000, went on to earn promotion and Jackie became a Celtic great (no exaggeration) as well as a Scotland regular (less of a boast, admittedly).



views: 7,199