Crisis - what crisis ?
Author: Brian Duncan Date: Monday, 9th Feb 2004

John Yorkston and the Dunfermline board have been saying for weeks that there is not and there will not be any crisis at East End Park.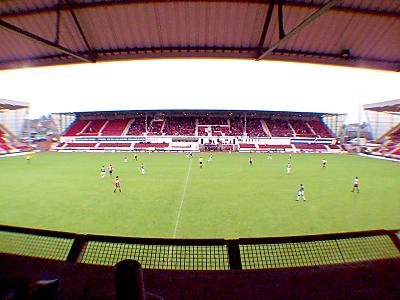 Despite the players getting paid by cheque on a number of occasions the players were assured only last Friday that there were no problems in the club (listen to Noel Hunt interview - link below).

After the abandoned game against Clyde on Saturday, Noel Hunt explained that the board had told the players there was nothing to worry about.

However, by Sunday morning they were told to report to the club to be told that they had to have their wages slashed by 20% - 35%. Not surprisingly some of the players are angry.

At the recent Fans Forums we were told there some minor problems but no real difficulties and that Dunfermline will survive without going into administration.

So what has changed ? Is it just because of the £500,000 debt to Stadia ? Surely it must be much much more than this.

Is it that the Stadia group of companies are so mixed-up in this ? would someone (John Yorkston ??) care to enlighten us the true story of the behind the scenes goings on of the club ? I`m sure many fans understand the problems in the state of Scottish Finances, but what they don`t want to hear is that one minute all is rosy and the next the players have to take severe wage cuts. With redundancies at East End Park at the weekend, with those related to the Stadia group, we can only sit back until the next bobmshell hits us.

Why should the fans not be told the real story. The fans are rightly concerned, as can be seen by the many many offers of cash help (on the message forum) to get the club out of its current mess.
Related Stories


views: 6,643