Pars Supporters Trust Annual Golf Day
Author: Stephen Taylor Date: Saturday, 8th Oct 2005

The second annual Pars Supporters Trust Golf Day was a great success played at Pitfirrane Golf Club on Friday 7 October with Jim Leishman showing why he is the man!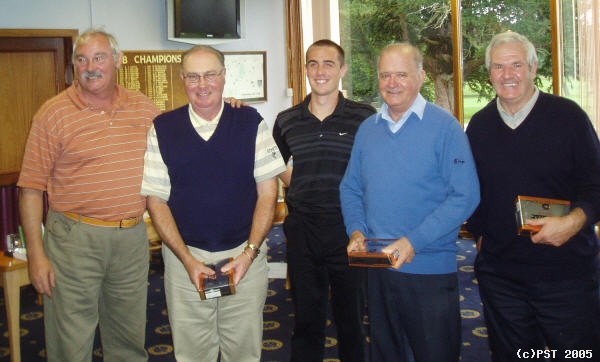 There was a great turnout from supporters, sponsors and guests including a number of Pars legends and current squad players. Despite the early morning start the golfers were in good fettle and they walked out to their starting tee on what was a gloomy morning over the Pitfirrane course for this the second Pars Supporters Trust Annual Golf day.

It was a team event with each team having a Pars "celebrity" playing. Among the Pars legends were John Watson (a bit of a bandit by all accounts!), Grant "Shaggy" Jenkins who was a very good player and did well to carry his host team, Alex Edwards, Ray Farningham,Stuart Rafferty, Ian Westwater, Davie Irons (who looks fit enough to step right into the current Pars team!) and David Bingham (who was modestly reminded by Jim Leishman about the fact we are still in the CIS Cup). Special mention should also be made for Ross Jack who again supported this event despite having a long round trip from Dingwall. The current squad players and staff included Greg Shields Andy Tod, Allan McGregor, Scott Wilson,Gary Mason, Scott Thomson, Scott Y Thomson, Mark Burchill and Iain Campbell.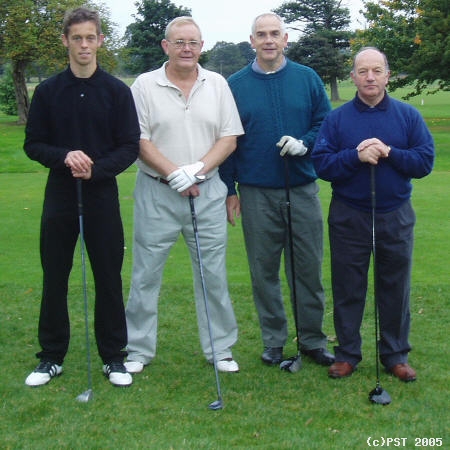 Thomson Cooper, runners up in this years competition




The event proved to be very competitive resulting in some very impressive low scoring in what were very benign conditions over a wonderfully prepared course. The winning team was Scottish Life, the runners up were Thomson Cooper and in third place Rennies of Dunfermline.

Jim Leishman did the honours in presenting the prizes with the slight complication of having to award himself a prize as a member of the winning Scottish Life team As Jim noted the praise was largely due to his team mates but he did contribute with a couple of eagles to help out from time to time, (or so he claims!).


The event was aimed at raising funds which the Trust will use towards supporting the DAFC community projects. Special thanks were in order for the main organiser, Brian Jolly, ably supported by Margaret Ross and Jane Baird.

The Pars Supporters Trust would like to thank all the sponsors, particularly the two main sponsors, Microsoft and NHP Plc, and all the players and guests for making this a great Pars day out.


The next Pars Supporters Trust event is on Tuesday 1 November when there is a "Meet the Ref" night with top whistler, Stuart Dougal, coming along to face a question and answer session from Pars fans.



views: 2,468