Dunfermline finally rid themselves of Rossi!
Author: Jason Barber Date: Thursday, 18th Dec 2003

Youssef Rossi has, as expected, rejoined his first major club Raja Casablanca.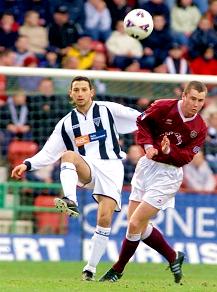 After a drawn out saga that an American Soap Opera writer would have been proud of, Youssef Rossi has finally rejoined his first major club Raja Casablanca for an nominal fee, believed to be in the region of £25,000.

Rossi signed for Dunfermline in a blaze of publicity alongside fellow central defender Andrius Skerla in the summer of 2000. Their two career paths since then could hardly be more different!

Recovering from a serious cruiciate ligament knee injury, Rossi was signed for a "bargain" £160,000 from French club Rennes. Jimmy Calderwood was obviously delighted at landing the multi capped defender at such a low fee.

Pip Yeates worked tirelessly to ensure the Moroccan would be fit as soon as possible after such a serious injury and Rossi eventually appeared a couple of months into season 2000/01.

His under 21 team debut resulted in a swift red card, but most hoped that was just down to his exuberance of finally being back on a football pitch.....

A first team debut followed in November 2000 where he provided a master class in defending in a 0-0 draw at home to Rangers. Poor Kenny Miller could not have known what had hit him as Rossi showed what he was capable of!

The following week saw Dunfermline lose at Tannadice, in part thanks to Youssef Rossi being sent off for the first (and eventually second) time in Dunfermline`s colours.

His one and only goal for the club came on Boxing Day 2000 when he hit a great goal during a 3-2 win over Aberdeen at East End Park.

More controversy was not far away though.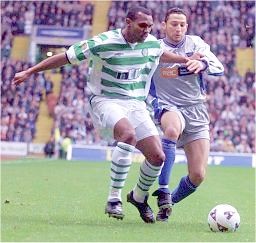 Rossi at Parkhead, not a happy hunting ground for him
Rossi ended up collecting 6 yellow cards and 2 red cards during his debut season with the Pars. Free from injury, he was not too much use to Jimmy Calderwood sitting in the stands due to suspension.

The other Mr Rossi, his brother and agent, made the first of his many outbursts when he accused Scottish referee`s of a campaign to oust Youssef from the game over here!

Season 2001/02 saw Rossi being linked with Italian club Udinese. It would not be the last transfer rumour heard around East End Park.

After being on international duty at the start of the SPL campaign, Rossi did not return as planned. Personal reasons were all that Jimmy Calderwood was afforded.

An expected return was planned in August 2001, but Rossi failed to attend the meeting with his manager.

He eventually turned up in Southampton! Relationships between the two Mr Rossis and DAFC were being pushed to the limit. John Yorkston and Rossi the agent were poles apart in their expected valuation of Rossi the player, £1m compared to £300K to be precise!

Eventually Youssef returned, blaming a breakdown in communications with his own brother for his late appearance in Dunfermline.

Youssef belatedly played his first game of the season at Parkhead in September 2001. There would not be many more to come....

A poor performance away to Aberdeen saw Youssef kept in the dressing room at halftime, again not the only time that would be happening to the now highly unreliable player.

A red card at Ibrox was officially Rossi`s third in just over 20 games for DAFC, a record no one would be proud of.

Rumours of a mysterious injury kept him out of the team on his return from suspension. Manchester City and Leicester were both rumoured to be interested in signing him at this point however.....

After a three month break from first team duties, Rossi returned to the big time in February 2002. In only his second game back, he was substituted at Parkhead during the half time break. Scott Thomson was clearly outraged at the lack of teamwork being displayed by the now heavily out of control Rossi.

Youssef Rossi
the image says it all!




By the end of season 2001/02 it was clear Rossi had finally used up all his "Chance" cards with Dunfermline. Countless warnings and second chances from the club had been given and laughed at.

Since then he has not played for the club, although there was a sudden return to pre season training completely out of the blue at the beginning of this season!

Needless to say, he did not hand around for long. The payment of wages, and the subsequent fines, have been taking place for a number of months, effectively not costing Dunfermline any money thankfully.

Now the long, drawn up saga of Youssef Rossi`s Dunfemrline Atheltic playing career, merely touched upon in the incidents above has come to a close.

Raja Casablanca may well be closer to the heart of Rossi, in which case they have bought a fantastic player at a snip.

Jimmy Calderwood recently promised Pars fans they would hear his side of the story once Rossi was eventually sold on, and he would be looking to get his own back. Calderwood put his personal faith in the player who proceeded to laugh in the manager`s face. Hopefully Jimmy Calderwood will not be one to take Rossi`s actions lightly.

Goodbye at last then to a potential Pars legend. Unfortunately, he will only be best remembered for being a trouble maker both on and off the park.




views: 6,722